The Twilight Zone came on the air in 1959, the brainchild of science fiction fan and avid student of human nature, Rod Serling. The original series ran five seasons, 156 episodes.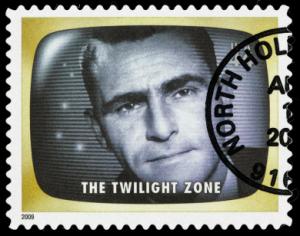 Back when smoking was unrepentantly cool, Serling would transport viewers to another dimension where anything could happen—and the darker, more complex questions about human nature were often explored.
In less than 30 minutes, each episode of the The Twilight Zone managed to weave together a suspenseful, multi-layered plot, complex character development, clever dialog and razor-sharp narration.
Some of my personal favorites include:
Time Enough At Last: Bank teller and bookworm Henry Bemis, often criticized for spending too much time with his books, finds himself in the midst of a nuclear war, in an episode parodied many times in popular culture (including by Family Guy).
The Masks: A dying old man calls his greedy, self-centered family to his side, and makes one final request that they must oblige to inherit his vast fortune.
The Obsolete Man: In a 1984-esque dystopian society, librarian Romney Wordsworth finds himself on trial for being "obsolete."
To Serve Man: The United Nations and the world seek to understand the intentions of the Kanamits, a race of 9-foot-tall aliens that visit Earth.
Nightmare At 20,000 Feet: Starring Content Marketing World Keynote Speaker William Shatner, salesman Bob Wilson spots a gremlin on the wing of a plane while mid-flight, but he struggles to convince the other passengers of the gremlin's existence.
Every. Single. Week. And it remains in syndication to this day.
How did he do it?
Content Marketing and the Elusive Brand Story
According to Marketing Score data, the three lowest rated sections among marketers are Lead Sources (32%), Public Relations (29%) and Content Marketing (25%)
That's not good, considering how much marketers are pouring into content marketing:
Clearly, marketers today are struggling to shift from the outbound marketing machines of the past to strategic inbound publishing engines. Brands are struggling to tell their story.
Even though Rod Serling wrote as many as two-thirds of all Twilight Zone scripts, he had help in dreaming up such entertaining and compelling plots. Perhaps what's missing from your content marketing strategy is a process for cultivating and harvesting creative content ideas.
Editorial Meetings: Content Marketing Catalysts
I've said before that marketing departments could learn a thing or two about content from journalism. Editorial meetings in journalism are an essential exercise in brainstorming story ideas, prioritizing current news and assigning topics.
Similarly in content marketing, editorial meetings bring together the organization's content producers, and are an important part of a strategic content marketing plan. They'll help your team avoid sloppy or unoriginal ideas; provide a forum to strategize, prioritize, and make the most efficient use of your team's time; and uncover unique brand stories waiting to be harvested.
Here's how to run them to produce high-quality content ideas.
1. Set expectations.
First things first: Start with an end goal in mind, and relay expectations to participants. If you're just starting to publish content, it might be worth it to invest the time in a content marketing kickoff meeting.
Don't expect participants to walk in cold and overwhelm you with a tidal wave of content ideas. Not all personality types are productive in brainstorming sessions, and some argue that brainstorming might not produce the most creative ideas.
In order to make sure the best, and not loudest, ideas make it through, ask participants to bring ideas to the table, or submit to a designated "editor-in-chief" in advance. They can come prepared with:
A frequently asked or difficult-to-answer question (internal or external)
A recent issue or problem
A current project
An upcoming event
An interesting read
A timely event or current trend
Brody Dorland (@brodydorland) of Divvy HQ has some more great ideas to get you started.
2. Create a safe haven.
Imagination can be difficult, and creativity scary. Create a place where co-workers feel free to share their ideas. Establish a no-judgment atmosphere with a process on how ideas are submitted, given fair opportunity for discussion, and selected to move into production.
3. Choose the right participants.
Your marketing team and content creators should be part of every editorial meeting. But if you're generating all content ideas within marketing, you're leaving a lot of insights and ideas on the table. Sales, product managers and customer service possess a wealth of knowledge about your products, services, customers and prospects.
Solicit input from functions outside of marketing and welcome them to the content creation conversation. View them as a partner essential to your success—because they are. Host regular cross-team meetings to highlight major projects and initiatives, ask them for fresh ideas and insights, and better align teams on an ongoing basis.
4. Prioritize and strategize.
Each idea brought to the meeting should pass through a conversational filter to discuss the idea's value, explore alternative angles, select topics for production, prioritize importance and make sure all topics fit into your larger content strategy.
Possible questions for discussion include:
Why is this a good fit for us?
What unique perspective can we bring to this topic?
What are we trying to accomplish?
What buyer persona are we targeting?
What lifecycle stage is this intended for?
What's the best channel for this topic?
Is there an advantageous time to publish this?
5. Make discussions data-driven.
Data in editorial meetings serves three functions: It reinforces the value of content marketing; it uncovers the strengths and weaknesses of current content; and reveals untapped content opportunities.
Keith Moehring (@keithmoehring), puts it well: "Through how they interact with your website and content, your audiences show you how they want to be marketed to, what they find value in, and what it takes to convert them into a lead."
You can then use this insight to create a reader-focused content strategy.
6. Commit to consistency and accountability.
Perhaps most importantly, cultivate accountability. Have clear expectations coming out of the meetings for each piece of content: Who has the expertise and time to author it? Is additional internal or external expertise needed? What's the deadline? What is the review process?
Delegate assignments, and identify a project manager or content editor to facilitate completion. Some tips we've used at PR 20/20:
Share a real-time content calendar to collaborate on ideas (we use Google Drive)
Maintain a shared to-do list such as Basecamp
Post Monday morning forecasts of what's coming down the pipeline for the week
Announce when new posts are live and encourage the team to share with their online network
Track performance (page views, time on site, inbound links, etc.) and report metrics monthly
Tell Your Story
Once you have the process in place to collect, develop and strategize around content ideas, you free your content team to reimagine ways to tell your brand story. And remember, as Rod Serling said, "Imagination... its limits are only those of the mind itself."
Are you running editorial meetings as part of your content marketing strategy? How effective are they? I'd love to hear your stories below.
Taylor Radey is a consultant at PR 20/20, a Cleveland-based inbound marketing agency and PR firm. Follow Taylor on Twitter @taylorlauren.
Subscribe to receive the PR 20/20 blog by email or RSS feed.
Rank Your Content Marketing Efforts
Content marketing is critical for any organization looking to attract, educate and convert increasingly research-driven consumers. But despite its importance, content marketing is the lowest-rated marketing factor for over 300 marketers who have taken Marketing Score, a free 132-factor online marketing assessment created by PR 20/20.
The first step in taking a more strategic approach to content marketing begins with finding out where you organization is now. Find out your Marketing Score today.
Taylor Radey
Taylor Radey is the director of marketing and a senior consultant at PR 20/20. She joined the agency in April 2013 with a background in digital and content marketing. She is a 2009 graduate of the E.W. Scripps School of Journalism at Ohio University, where she received a Bachelor of Science in Journalism, with a focus in public relations. Full bio.