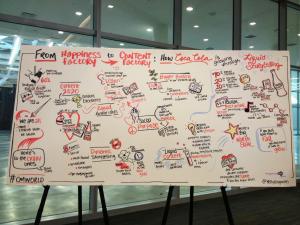 The revolution will be orange. And its ringleader will be wearing shoes the color of traffic cones.
You don't often get to witness a revolution up close. And when you do, it's not nearly as fun (or as colorful) as Content Marketing World 2013, the largest global gathering of content marketers held in PR 20/20's (@pr2020) hometown of Cleveland, Ohio.
The event, run by Joe Pulizzi (@joepulizzi), his awesome shoes, and the dedicated Content Marketing Institute (@CMIContent) team, didn't look like a revolutionary council—unless your freedom fighters are exceptionally well dressed and armed with MacBooks.
But make no mistake: Between panel sessions, keynote speeches, and lunch and learns, a group of more than 1,400 attendees steadily worked to overthrow the current marketing paradigm.
Content marketing is an idea that's time has come. The future of marketing lies in leveraging compelling, useful content to satisfy the needs and buying patterns of increasingly research-driven consumers.
The revolution has started, and judging by the event's composition, it's spreading. This year's event included agencies, small businesses, Fortune 100 brands, startups and others hailing from more than 40 countries.
The revolution is also growing up. Content Marketing World 2013 confirmed that the tactics, mindsets and execution today's content marketers bring to the table are growing more mature and complex by the day.
Like diligent war correspondents, PR 20/20 team members brought back key trends from the front lines that we believe are actively shaping the next phase of the content marketing revolution.
1. Your Youtility Will Increasingly Determine Your Content Marketing Success
Producing great content is one thing. Creating content that is honest, transparent and useful is another animal entirely. And the latter is critical to future content marketing success.
The idea of Youtility—marketing so useful people would actually pay for it—is a big part of that. Jay Baer (@jaybaer) convincingly introduced us to the concept in his day one keynote. Our job isn't to blast messages into the ether. It isn't even earning a few seconds of someone's attention. Our job is to be so useful and knowledgeable that people can't afford to ignore us.
It's the idea that marketing can be more than just marketing; it can provide real solutions to real people, while achieving the goal of improving a business's bottom line.
In one of the breakout sessions, Paolo Mottola Jr. (@paolojr), REI's digital program entertainment manager, continued the use case for Youtility. He showcased his team's efforts to turn REI into a content hub packed with how-tos and safety tips for lovers of the outdoors.
Look for this to become marketing gospel as businesses struggle to define themselves in an era of noise and choice, and realize that long-term success means educating first, selling second.
As PR 20/20's Sam Brenner (@sambrenner2020) puts it: "The more value we can bring, the more relationships we build, the better our businesses will be."
2. Content Marketers Increasingly Wrangle with "Quality vs. Quantity"
Your business can't afford to ignore content marketing. More and more brands, even conservative ones, are starting to get that message.
The next hurdle is turning your brand into a publishing machine. That brings unique challenges—and marketers are struggling more and more with the quality vs. quantity debate.
A panel consisting of Marcus Sheridan (@TheSalesLion), Joe Chernov (@jchernov), Heather Meza (@HeatherMeza) and Rob Murray argued the question. Chris Baggott (@chrisbaggott) also discussed it in his breakout session, Managing High Volume Marketing Across Multiple Channels.
Is done better than perfect? Who defines quality? Is content quality objective or subjective? There's no consensus. And there's no one-size-fits-all answer.
We know that brands must embrace content marketing. We know that quality content rises above the crap. But we also recognize that quality concerns cannot be an excuse to avoid content marketing.
Is balance possible without compromising your integrity? If so, where does the balance lie? Where do you stand and why? Let us know in the comments.
3. Storytelling Isn't Dead—Not by a Long Shot
Data is dominant. Metrics matter more than ever. KPIs are king.
That's all true, but if you're giving storytelling the short end of the stick you're in trouble.
As my colleague Sandie Young (@SandieMYoung) told me, "Content marketing is about appealing and identifying with your audience on a more personal level. Consumers that enjoy and seek out branded offerings will remain loyal consumers. This notion should be at the heart of any great content strategy."
Coca-Cola is doing just that. Jonathan Mildenhall (@mildenhall), global creative VP at the company, didn't tell us how integral personal storytelling is to modern marketing. He showed us.
A Coca-Cola produced video depicted the story of how the brand used video and touchscreen-enabled booths to bring Indians and Pakistanis closer together. People from different cultures who had never met were able to interact for the first time. And buy each other a Coke.
The result was moving. And it proved that no matter how advanced our tools and mindsets become, we're still creatures of story and have been since paint first met a cave wall. As content marketing evolves, we must remember that our DNA is hard-wired to love great tales and those who tell them.
PR 20/20's Taylor Radey (@TaylorLauren) says, "Brands still have the power to connect people and evoke emotion. If you want to humanize your brand, why aren't you using storytelling (and humor) to do so?"
4. Everyone's a Content Marketer Now
Content marketing isn't owned solely by marketing anymore.
Over a lunch session, Heidi Cohen (@heidicohen) asked an interesting question: "Which of you have ever talked to your company's finance guy?"
Crickets.
Her point? Nobody talks to the finance guy. But you need to start. And you need to talk to the sales force, the administrators, the human resource professionals. To create powerful content, you need to talk to everyone.
Employees and customer advocates provide your brand with powerful, authoritative content. Not only does that take some of the load off when it comes to content creation, but it also tells a richer story. Everyone can be involved in content marketing. And your "subject matter experts" are likely already in-house.
It's not the sexiest idea in content marketing, but it could be a game-changer. The best content marketers will comprehensively cover a brand's entire scope of operations—yes, even finance and legal—and define their companies as truly exceptional.
5. Seeing Is Believing
Visual content is no longer an afterthought or the purview of designers. Everyone needs to take visuals seriously and use them to drive business results.
Visuals that look good are eminently shareable. And sharing delivers your brand's information to consumers where they already are, instead of trying to force them to come to you.
This process is becoming more complex; it's not enough to simply make visual content. Marketers are embracing advanced strategies for visual content consumption by adopting adaptive content and paying attention to strategies like F and Z eye-scan patterns.
Content Marketing World speakers addressed everything from visual content marketing strategies (Todd Wheatland's (@toddwheatland) Visual Content Marketing Strategies You Probably Aren't Using and Should) to video content conversion tips (Curt Porritt's Improving Conversion Rates with Video Content).
PR 20/20's Allie Gottlieb (@alliegott) took the following away from the visual sessions: "The brain processes images 60,000 times faster than it does text. With the clutter of content and marketers fighting for attention, images communicate a company's message quickly and simply."
More Content Marketing World 2013 Resources
If you're craving more content, here are some excellent Content Marketing World 2013 posts, wrap-ups and notes that you might find valuable:
Rank Your Content Marketing Efforts
Content marketing is critical for any organization looking to attract, educate and convert increasingly research-driven consumers. But despite its importance, content marketing is the lowest-rated marketing factor for over 300 marketers who have taken Marketing Score, a free 132-factor online marketing assessment created by PR 20/20.
The first step in taking a more strategic approach to content marketing begins with finding out where you organization is now. Find out your Marketing Score today.