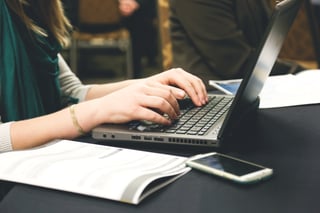 Roughly two million blog posts are written every single day. I'll just let that sink in.
Not to mention the relentless parade of updates on our social feeds. Everywhere we look—Facebook to Twitter to Instagram—we can't avoid promoted links vying for eyeballs.
Talk about content fatigue...for both the writer and reader alike. So, what's the secret sauce to differentiating?
Remember: a blog is not just a metrics driver. A blog showcases your brand's personality, connecting internal subject matter experts to external readers. It's your chance to showcase the heart and soul behind the per-usual ad. If you do that, you'll likely continue to see an increase in your readership, and eventually, a community of loyal readers.
In the wise words of Brian Clark: "Don't focus on having a great blog. Focus on producing a blog that's great for your readers."
Implemented the right way, a blog can boost website traffic, fuel community engagement, and drive lead generation. It might be time to re-evaluate your blog from top to bottom, and awaken a more stimulating, creative brand personality. Below are five factors to consider for a comprehensive approach.
5 Steps to Reimagine Your Blog
1. Redefine your brand vision.
If you feel like your content is lacking purpose, forget the blog (and any other marketing materials) for a moment. Think about the bigger picture: how is your product or service impacting the world? The industry? Your consumers or clients? The most loveable brands have a purpose that we as consumers love to love.
Coca-Cola is a prime example. Its mission is to "to inspire moments of optimism and happiness." Coca-Cola's blog, Unbottled, is a direct reflection. A featured campaign, #OutofOffice, asks readers, "What inspires you?" and encourages them to send videos, photos and personal stories.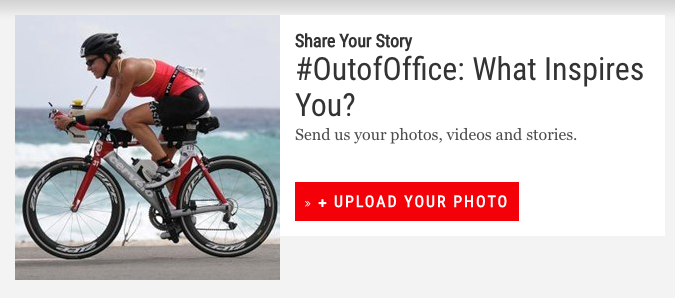 Beyond content, employees that buy in to your brand's purpose and vision will likely work harder and remain at your company longer. Clarifying and emphasizing your vision will have impact far beyond the blog (but hopefully it will inspire them to contribute!). Huffington Post says, " Positive-psychology theorists suggest that sense of purpose—an understanding of what makes a person feel significant and meaningful—is a key to thriving."
2. Peruse competitor content.
Next, kick back and browse. Make a list of top competitors, and visit their company blogs to conduct a high-level analysis. Make a list of what's working and what's not. Specific features to examine include page design, main content categories, primary calls-to-action (CTA), subscriber options, featured articles, etc.
You might discover popular themes you haven't uncovered, or ideas for home page visuals (all recreated with your own original spin, of course). Other tools, namely BuzzSumo, can also help you to identify buzzworthy topics with insight into what's trending.
>> Must read: How To Use BuzzSumo for Content Marketing
For added inspiration, create a list of your personal favorite blogs—regardless of industry or topic—and document what they all have in common (that might be colorful visuals, clickable headlines … you get the gist).
3. Analyze design
.
Before diving headfirst into content, evaluate your blog's look and feel. Are you following best practices when it comes to graphic design? Are you making a powerful, emotionally stimulating first impression?
One of my personal favorites: Virtual mentor, Michael Hyatt, has mastered the art of the initial impression. In fact, the blog's purpose statement is the first thing you see, "Your virtual mentor. Win at work. Succeed at life," framed within a dominant image. Simple, yet influential, right? The blog's home page also draws you in with a free ebook offer, top content categories, a quick 'About Me' section, number of subscribers, and recent media coverage.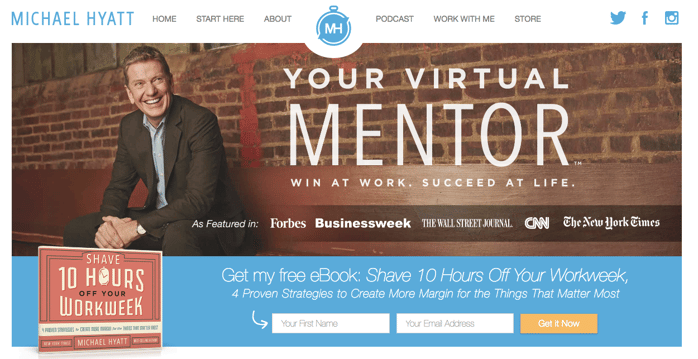 4. Make a wish list of bonus features.
Consider widgets and additional features that could add value to the reader's experience. Must-have features (typically seen via a side-bar) include:
Subscribe button or box.
Author profiles.
Blog search bar.
Primary site CTA.
Topic categories.
Social network buttons.
Also ensure you've integrated commenting in some form. A few of the most popular options include Facebook, Disqus and Livefyre. Other features to consider include social counters or gamification modules, among many others. Check out HubSpot's 13 Widgets, Plugins, and Add-Ons to Enhance Your Blog's Performance for more.
5. Strategize your content mix and format.
Now that you've aligned vision, design and related blog features, map out your ideal plan of action for content mix and format. A healthy topic mix ensures you're covering a range of themes at differing stages in the buying cycle. The most useful content calendars will align titles in tandem with buying stages, from research and awareness all the way to services and upsell.
And, equally important, ensure blog authors switch up the format. Publish long and short-form pieces, as well as multimedia like videos and infographics to keep readers engaged.
Beyond mix and format, reflect on your approach to headlines too. In our experience, list posts and how to posts tend to perform best.
Related read >> How To Write More Clickable Headlines in 3 Easy Steps
With a defined purpose and strategy, your blog will become a direct reflection of your brand.
Ready to reimagine your blog? Let me know what tips you'd add after going through the process yourself.
Image credit: Pexels

Sandie Young
Sandie Young started at the agency during the summer of 2012, with experience in magazine journalism and a passion for content marketing. Sandie is a graduate of Ohio University, with a Bachelor of Science from the E.W. Scripps School of Journalism. Full bio.