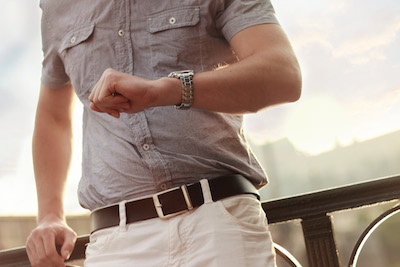 Marketers face more pressure than ever to deliver real ROI on their marketing efforts. The good news: it's the best time to be a performance-driven marketer. The tools, technology and talent available to build, execute and measure high-impact campaigns have never been more widely available.
But with the opportunities come obstacles from the sheer number of available courses of action. In a sea of available metrics, which ones are actually important? And once you determine that, what do you do with them?
To answer those questions, you'll want to set a clear, actionable marketing goal. This goal will give you a real-time benchmark against which you can measure marketing's performance. But don't fear: this doesn't need to be a big scary project that takes months and involves tons of calculations.
With 20 minutes, a pen and paper (and this post), you can set a concrete marketing goal backed by real data. With this goal, you can execute campaigns that create lasting value for your business.
1. Pick the right goal category and timeframe [10 minutes].
What do we mean by "goal category"? Put simply, you need to pick one thing to measure. There are a host of metrics marketers have access to, but only some will matter to your business. And only a few will truly impact business success.
Spend five minutes listing out all the potential metrics you might measure already or could potentially measure. These may include:
Website Visits

New Leads

New Marketing Qualified Leads (MQLs)

New Sales Qualified Leads (SQLs)

New Users

New Demo Requests

New Trial Requests

New Customers

Number of Repeat Purchases

Social Reach (Total audience on Facebook, LinkedIn, etc.)

New Email Subscribers
Then, spend a few minutes rating each metric from 1 to 3, 1 being "most important," and 3 being "least important" to the business. These ratings will vary depending on your marketing department, type of company, etc. For instance, marketers at a small startup must be focused on acquisition or revenue-generating activities. A team at a large enterprise may instead be charged with building brand or fostering customer loyalty.
Throw out any metric that's not a 1. Of the remaining shortlist, pick one metric that marketing must influence to prove success. For the purposes of this post, let's say you decide that New SQLs are the most important goal category marketing should impact in the coming year.
2. Work backwards to a yearly goal using historical data [5 minutes]
Now that we know marketing must impact New SQLs, what does that impact look like? Historical data is a good place to start for actionable insight.
Take at least one year of data, if possible, and establish some benchmarks. In our New SQL example, we'd want to know the following from the last 12 months:
Total New SQLs Generated

Average SQLs Generated Per Quarter

Year-Over-Year Change
Say last year your organization generated 100 SQLs, an average of 25 per quarter, and this number is up 20% from the previous 12-month period. Set a more challenging goal—say, increase New SQLs by 25% in 12 months. (While we hope to do more, we also want to keep the goal realistic.)
If we did 100 SQLs last year, that means we want to generate 125 this year. But, a year is a long time, so we want to break this goal down further into daily, weekly and quarterly milestones.
3. Break the goal into daily, weekly and quarterly milestones [5 minutes].
You wouldn't set a goal to run a marathon, then fail to plan out all the steps between the decision and the final race. After all, you'll probably need to work up to 26.2 miles over time.
The same goes for your marketing goal.
Spend five minutes breaking down your yearly goal into quarterly, monthly, weekly and even daily benchmarks.
These don't need to be perfect, just close. With a goal of generating 125 New SQLs, we'd need to generate roughly 32 New SQLs per quarter, or about 11 per month (approximately 2-3 per week). Given a normal workweek, that's about 1 New SQL generated every other day.
It's way too easy—and dangerous—to assess goal progress monthly or quarterly and say "we'll do better next month or quarter." A framework with daily, weekly, monthly and quarterly goals makes certain you'll course correct better, faster and more often. It also keeps you focused: at all times, activities that drive the goal forward take priority over other tasks that require marketing's time, energy and resources.
With your marketing goal in hand, it's now time to roll up your sleeves and execute. Formulating a marketing goal is a first—and important—step to building a performance-driven marketing program.
The next is to hold a Marketing Growth Hackathon. Learn how in this free webinar.