"More than 20 percent of searches on Google are related to location." - Google.
For those unfamiliar with local search engine optimization, I highly recommend you read this Local SEO Primer from Search Engine Land. This provides a good foundation on key concepts addressed in the following post, which covers reactions and insight from local search experts about the new prominence and importance Google has put on Places pages.
Google Introduces Places Search
On Oct. 10, Google began rolling out Places Search, which replaces Maps in the left-hand panel of search results pages. Places Search clusters results around specific locations so searchers can more easily compare results. For example, if you're looking for restaurants in Cleveland, the search results will show you options as well as their locations, websites, phone numbers and customer reviews.

Melih Oztalay, in his post on Search Engine Journal, details Googles updates: "The local business listings results are also interesting in that they show quite a bit of information to a local customer or consumer. Of course the basic information like business name, address, phone number, telephone number, website link and location on the map is pretty standard. However, the number of customer reviews and the average star rating is prominent to the person searching. Translated, this means the local customer or consumer very quickly see if they want to even click on your local business listing or call you."


In addition to Places Search, local business Places pages are starting to blend with organic website listings on main search results pages (see screenshot to the right).
According to Google, in its Places introduction post, "One of the great things about our approach is that it makes it easier to find a comprehensive view of each place. In our new layout you'll find many more relevant links on a single results page—often 30 or 40. Instead of doing eight or 10 searches, often you'll get to the sites you're looking for with just one search. In our testing Place Search saves people an average of two seconds on searches for local information."
Expert Reactions
Greg Sterling at Search Engine Land put together a pretty comprehensive overview of the changes.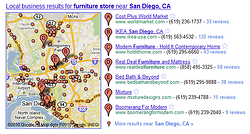 His biggest observation, "Local SEO was starting to focus on 'getting into the 7 Pack.' That's all gone now. Now, fully fleshed out Place Pages will assume much greater importance, as will being present and reviewed in the various sites featured in the 'clustered' links."
For those unfamiliar with the 7-pack, it was the map you used to see in the middle of search results pages for a query like "Cleveland bars" (see screenshot).
Sterling and several others, including Andrew Shotland of Local SEO Guide, also observed that local and vertical directories (Yelp, SuperPages, etc.) are being pushed down the search-results list in favor of Places pages, and as a result may not see as much traffic. (In a more recent post he mentions that he has not seen any significant decline in directory site traffic.)

David Mihm disagrees, however, in his post, A New Kind of Local Search Result: The 'O-Pack'? He thinks the newly structured Places pages are a good thing for directories, "I actually don't think this new UI is any worse for IYPs [Internet Yellow Pages] than the 7-pack was. In a lot of categories, I'm seeing prominent sites that are in that cluster ... like Yelp, Judy's Book, and Citysearch–get direct clickthroughs from clustered review links right off the search result page (which they weren't getting from the old 7-Pack)."

AdWords advertisers appear to be the biggest losers. The new results show maps in the right-hand column, where the sponsored links appear on most search result pages. Mihm says, "The fixed-position map not only moves positions 4-10 hundreds of pixels down the page, but it hides their ads and continues to draw attention from users as they scroll their way down the page (the map moves with searchers as they scroll). I think this will dramatically increase the required CPC for the top three slots in the AdWords auction (and thus Google's bottom line) for these types of keywords."
Google Places Impact on Marketers
According to Oztalay, "Businesses now have two marketing tools that need optimization: their website and their local business listing (i.e. Google Places page)... The process requires that you first claim your local business listing, followed by your initial update, and then you have to consider monitoring and managing the local business listing just like your website."

Matt McGee agrees in his post, 5 Quick Impacts of Google's New Local Search Results. "You've got the regular title and snippet listing, then from the Place Page you get a photo, address and phone information, a review snippet links to additional reviews on third-party sites, star ratings on the right, an overall review count, and a link to the Place Page. Moral of the story: build out those Place Pages, and fast."

Mihm believes that traditional SEO factors for local businesses are beginning to again take precedence over local optimization strategies. "By and large, small business owners who have pursued long-term, best-practice SEO strategies across ALL fronts (organic, local, social, etc.) rather than chased Google's algorithm, should be relatively unaffected by the change. Those who have put their faith (and $$$) in set-it-and-forget-it, fly-by-night PO-Box-near-the-centroid type strategies are probably regretting it. It's clear that traditional organic factors (especially Title Tags and inbound links) are going to again be as important as they were back in 2006, before any Local results came out…but now business owners also have to be concerned with purely Local factors in addition."

Another area of focus for marketers: generating online reviews. Review sites like Yelp, CitySearch, Yahoo! Local UrbanSpoon and Tripadvisor have a much greater prominence on the search results page now. In a blog post, Shotland identified what he sees as the Top 10 Review Sites in Google Places Search. In addition to these general sites, I recommend researching niche directories and review sites that are specific to your industry.

Mike Blumenthal calls out the importance of online reviews in his post, What are the implications of the new integrated Local Search results?, "Obviously, reviews and review management will only increase in importance in the reality defined by this new SERP... But imagine a Google defined marketing world where, to do well, a business not only needs to invest in SEO but in customer service upgrades as well."

Stay tuned for an article that offers tips and recommendations for generating online reviews.

Are there any posts related to Google's Places Search that you recommend? Please leave them in the comments.

Articles referenced: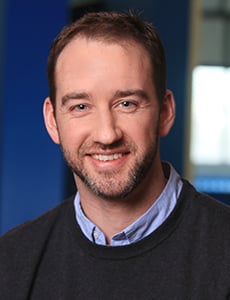 Keith Moehring
Keith Moehring is the vice president of strategic growth at PR 20/20. He joined the agency in July 2006, and is a 2004 graduate of the University of Toledo.