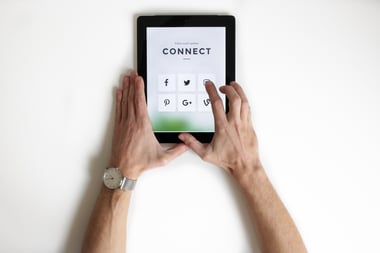 Roughly 2.34 billion people worldwide use some form of social media. That's a lot of potential followers, clicks, likes and engagements waiting to happen with your brand on social. But, what good are these metrics if you're not in tune with what your audiences are saying?
Creating relevant, engaging social media content for all of your brand's channels is only half the battle. Staying up to date on what your followers are engaging with, and using social platforms as a communication tool to connect with leads, prospects and customers, monitor complaints and address questions is the other half. And to do this effectively, you need to proactively monitor and engage with your audiences.
This is where HubSpot's monitoring tools become your best friend.
By taking advantage of all of HubSpot's social capabilities, monitoring your feeds becomes easier and more effective.
Dig In to Your Inbox
Your social media inbox, that is.
Within your HubSpot social media dashboard, users have access to a social media inbox, which is a one-stop shop for any and all interactions with your social channels. Streams are broken up into three categories, including Conversations, Interactions and New Followers.
Conversations: Monitor this stream to easily view a thread of your conversations, mentions and replies with users across all of your channels connected to HubSpot—whether they follow you or not.
Interactions: Monitor this stream for any and all engagements with your social audiences, from retweets to Facebook reactions.
New Followers: Monitor this stream to keep track of new followers on your brand's Twitter feed and gives you a quick view of their bio, website and social metrics with an easy option to follow back, or reply.
Once you've reviewed your inbox streams, there are three options for what you choose to do next:
Leave it be
Check it off and watch your inbox slowly wind down to 0
Archive it
When should you archive? When you've fulfilled the action it requires—like a response or other engagement—and are ready to remove it from your inbox, but want to save it as a reference. This can be useful for both positive and negative interactions if your team ever needs to reference them again in the future without cluttering your inbox.
Stream Customers, Leads and Competitors
Streams are arguably the most important tool that HubSpot offers out of all of its social management tools. With streams, brands can monitor their Twitter feeds in real time, allowing them to actively listen to what customers and leads, followers, employees, competitors and more are saying about them, and their product or service.
But, it's not enough to solely follow your brand's own Twitter timeline. There are hundreds—maybe thousands—of users out there talking about your brand. Create specific Twitter streams that align with your brand, including:
Mentions or retweets of your brand
Mentions of your products or services
Keywords that relate to or are often used by your brand
Subject matter experts or influencers talking about your industry
HubSpot contact lists
Employees or brand ambassadors
Competitor Streams
There are many ways to keep up with your competitors, and social is a great one. Sound stalkerish? Maybe. But, there's a method to the madness.
By monitoring your competitors and what their customers are saying about them, you may be able to make adjustments to your social and content marketing strategy, too. What content are they pushing and are audiences engaging with it? Are audiences raving about a particular feature on one of your competitor's products?
These are all questions you can answer by setting up competitor streams. Once you have this information, you're then able to make better-informed decisions and adjustments to your own strategy, product or service.
By the same token, monitoring your competitors' voices on social media also helps keep you in the know for what doesn't work so well, and leaves you an opportunity to execute it better.
Monitor Performance Data
Once you've made your way through your social inbox and set up your streams, your job still isn't over. A crucial part of social monitoring is to also monitor what the data is telling you in the reports tool. Within the reports tool, users can learn more about how followers interact and engage with their content, which ultimately helps better inform your overall content strategy.
Data can be filtered by accounts, time period and campaign. By assigning a campaign to your different social shares, you're able to see a better visual representation of the social tactics that are and aren't working.
So, what data should you be looking for?
You can keep track of common vanity metrics, such as:
Sessions
Contacts
Followers
And, while these are important for overall performance tracking, HubSpot also gives you insight into which specific posts are working by tracking engagement metrics, such as:
Clicks
Interactions
Top performing posts
Published posts
It's not enough to post and hope your followers see your content. By monitoring this data, your team can make data-driven decisions about the kind of content you need to be publishing across your social media channels based on what's driving engagement.
Social media is a rewarding tool that businesses can use to drive engagement, brand loyalty and, ultimately, sales. But, it can get noisy. By developing a clearer monitoring strategy to keep track of the conversations happening around your brand and engagement metrics, you can develop a more effective social media marketing strategy that continues to drive results.
Image credit: Unsplash