Have you been watching NBC's Fashion Star? And are you as obsessed as I am, or is the marketer in me showing bias?
It could be Paul Roetzer's (@paulroetzer) Marketing Agency Blueprint in the back of my mind, but change catalysts (change velocity, selective consumption, and success factors) have an effect on the way we watch television, and the way we choose products. Fashion Star is one example of a show that addresses the rate of continual change, buyer's selective consumption habits, and instant success or failure. It's disrupting entertainment as it merges the viewer experience with a purchase.
Fashion Star is a show that takes what we love about Project Runway—the chaos that goes into behind-the-scenes creation of new designs, and insight into the lives and story of the people making these designs—and warps it into hyper speed. Not only does the series let viewers see multiple fashion shows in each week's episode, it also serves as the vehicle for viewers to purchase the winning designs right after the show. Retail results are in: it's a sell-out hit.
Why It Works
There are multiple reasons why the platform has been a success thus far. In this marketer's opinion, the key nugget that we can take away and apply to our own projects: capitalize by connecting the story behind the product to your buyers' sales cycle.
Fashion Star pulls viewers in by connecting to the story behind each product. By the time viewers see the final garment, we have a connection to the designer behind it, the inspiration behind it, and we're rooting for it to hit the shelves. When a retailer chooses a design we like, we side with that brand—after all, a Macy's, H&M or Saks Fifth Avenue has just become our Fashion Star designer's hero. We show our instant feedback by making online purchases (or not).
Fashion Star Gems: 5 Business & Marketing Takeaways
You may be thinking that your B2B marketing plan has nothing to do with fashion and entertainment. You may be right, but the following Fashion Star marketing lessons can translate across industries and into your brand. Takeaways focus on how your brand's story is being told—from the people and products behind it, to the way results can be tracked to show how your audience responds to its message.
1. Build your brand through the people behind it.
Think of everyone involved. In Fashion Star, it happens to be the designers, mentors and buyers.
Designers: Designers are the ones sketching ideas and bringing them to life. Capturing that process and the person behind it is the beginning of brand building. Think of the status you relate to Michael Kors or Ralph Lauren—it's the designer behind the brand. Who is the inspiration behind your product or brand? Is it an engineer, designer or CEO, and are you connecting him or her to target audiences?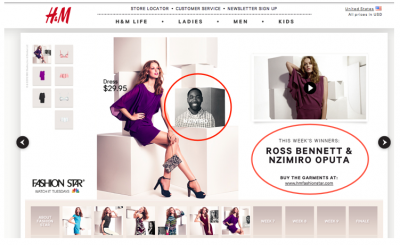 The screen shot above shows how H&M helps build its designers' brands: designers are included next to model shots to connect design, brand and retailer.
Mentors: Noted as "the celebutante, the singer, the sketchball," the show's mentors help tell the designers' stories, but have little say in terms of purchase decisions. Mentors may also be seen as customer connectors. If I follow Nicole Ritchie's style, I'm more likely to pay notice to the designers she likes most. Who are your brand's connectors—bloggers, media, celebrities, engineers? These voices can be valuable in bridging gaps in your brand's story.
Buyers: On Fashion Star, retailers have the last word in determining which designs hit the shelves. The Macy's, Saks and H&M brands are personified with representatives from each company bidding on that week's fashion, and in doing so, keeping a designer for one more week. Who does your brand rely on to put its product in front of customers? Value-added resellers (VARs), distributors or sales representatives are applicable examples. Align with the best partners, and ensure that your brand message is consistent across all channels.
2. Think beyond your product.
Let's say you've seen the show. You walk into a Macy's and see two racks of similar dresses, but one rack has a "Fashion Star" sign above it. Aren't you more connected to the garment with the story behind it? (Note: I realize that most designs have already sold out online; this is just an example.)
That's marketing. It's telling the story behind products and brands to connect your audience along the sales cycle. When it's time to make a purchasing decision, even similar products have differentiation through the story associated with them.
Think about the story behind your product, and how you can tell your target audience more. For a non-fashion example, consider GE's new series of commercials connecting GE power to the more relatable healthcare or food and beverage industries. In its Superbowl XLVI commercial, GE factory workers in New York relate machinery to beer lovers, talking about GE turbines that power Budweiser breweries. "When people think about GE they typically don't think about beer."
3. Involve your customers at every stage.
Share your brand message with content at every stage of the buying process. Fashion TV shows have success by involving viewers in behind-the-scenes action.
If your brand doesn't necessarily have a show, what platforms does it have? Leverage your website, communities, social networks and more to bring your audience into the story. What questions to buyers have along the sales cycle, or what touchpoints can connect with customers on a deeper level? Produce content that involves potential buyers, and gauge response as you progress.
For more on mapping content throughout the sales cycle, check out HubSpot's How to Leverage the 5 Stages of the Customer Buying Cycle for More Sales, or PR 20/20's How Marketing Can Support the Sales Process.
4. Connect the dots for a sale.
Fashion Star's slogan is, "watch it today, wear it tomorrow." The ecommerce component of the show completes the sales cycle, and has resulted in sellout fashion.
"Two episodes in, all three retailers have sold out at least one their featured pieces within 24 hours."
— NBC's Fashion Star, Genius in Marketing Innovation, SF Fashion+Tech
Another interesting note is that retailer H&M used the show as a pilot to test ecommerce. Before Fashion Star, the company didn't have an online retail component, and since, it's added more to its online collection than only the designs featured on the show.
The reason ecommerce works for Fashion Star, in my opinion, is that it gets us when we're most interested in the product—when we hit the peak of our "I care" moment right after the show. We see the winning designs, have invested emotion in wins for favorite designers, and are able to instantly go online and buy based on that connection.
The show itself can be considered a monetization model: inbound marketing for television. Its content drives online behavior and sales. Also, as more fashionistas watch in real-time, advertisers see better numbers (and avoid the DVR fast-forward). Check out the timely post from Augie Ray (@augieray) for more on Social TV Saving Live Television.
Are you tying the ability to purchase to your marketing efforts? View the purchase from the eyes of your buyer—is it available, and is it a good experience?
5. Gauge response, and adjust.
The instant buy isn't only great for consumers. For the retailer it shows instant results. How much do your customers like the designs you've selected? Let's just see if you sell out in a matter of 12 hours—the results are that instant. If consumer love for designers whom a retailer has purchased from continually start to fade, retailers can change focus for a week and test the waters on a new designer.
Ensure that your marketing campaigns are measurable and agile. If something isn't working, move on to plan b, c, or d. If something works—build upon it.
Tune In
Are you following the show? Check it out tonight (Tuesday on NBC at 10 p.m. EST, or find your listing online), and let me know what you think. Marketer or fan, I'd love to hear your takeaways.
Jessica Donlon is client services manager at PR 20/20. Follow Jessica: @jessicadonlon.
Stay updated: Subscribe to the PR 20/20 blog, check us out on Facebook and Google+, and follow the team on Twitter.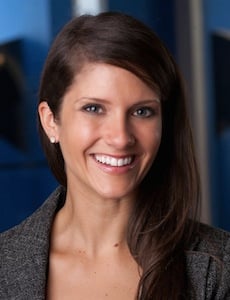 Jessica Miller
Jessica Miller is VP and managing director of PR 20/20, where she guides strategy and performance, and champions the ongoing pursuit of building a great marketing firm. For more than a decade, Jessica has built lasting partnerships that connect marketing strategy to bottom-line business outcomes. Jessica joined PR 20/20 in 2011 with global agency experience. She is a graduate of the E.W. Scripps School of Journalism at Ohio University. Full bio.