Facebook has come a long way from its college years. In the past few months alone, it has made major acquisitions, completely revamped its design and user interface, and today—with a valuation of $104 billion—the company aims to raise $18.4 billion in the second-largest American IPO of all time.
But has your Facebook marketing strategy changed?
To date, savvy marketers have seen Facebook as a place for sharing interesting and relevant information with fans—no matter the source. Since status updates push out to fans' feeds, you don't want to sound too self-involved so you share articles from other sources, interesting quotes, ask how people are doing, etc.
But with the recent rollout of Timeline, the way this appears on your Page is completely different. Have you paid attention? Go take a look.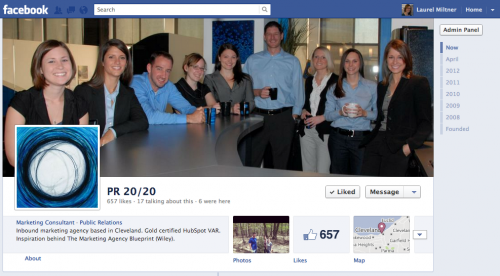 What jumps out to you? What updates draw you in? If you're like me, it's not the text-filled links to industry articles that make you want to click. It's photos, videos, and the behind-the-scenes peeks into company history.
The Timeline format offers a much more intriguing opportunity for companies to personalize their brands and share their stories, in a place nearly 400 million users visit six days a week. (Source)
Review the kind of content your brand currently shares on Facebook. With the social network's recent innovations in mind, do you think it's time to reevaluate this strategy? I'd argue, yes.
And so would Facebook. Earlier this week, it published Page data that showed higher engagement with brand-related updates, and encouraged companies to talk more about their own brands on Timelines.
Why the push?
I heard a story on NPR's Planet Money the other day, Is Facebook Worth $100 Billion?
The crux: Facebook's earnings don't support such a high price tag. (Hence the social media bubble debate.)
To grossly simplify a complex topic: at a $100 billion valuation, it will take Facebook 100 years to buy itself back from the market. In contrast, the average publicly traded company would need 15 years.
So what does this have to do with your business' Facebook Timeline?
According to Anant Sundaram of the Tuck School of Business at Dartmouth, in a pure advertising play Facebook will need to control 10 percent of all global ad dollars, spent across all media, to meet investor expectations. (That's also from the Planet Money story).
And, though Facebook boasts a unique combination of reach and targeting, I find it hard to believe that even it can usurp advertising dollars to such a dramatic degree.
So what's left? Getting the brands that have built presences on their platform to spend in other ways.
I doubt that Facebook would go the route of Ning, forcing current users to pay up or get out. But, with the amount of information available on its users, Facebook could offer highly promising tools for brands that no other organization, save perhaps Google, can touch.
What if Facebook were to revamp Insights (it's less-than-stellar Page analytics tool) to offer highly detailed anlalytics, ripe with valuable information for brands that provides both macro fan information and specific details about individuals? Would your brand pay $5/month for that data?
I spoke with Geoff McDonald (@geoffmcdonald3) of SplashLab Social not long ago, and he posited that Facebook might make a play in the social CRM space—another huge potential moneymaker. Imagine if Facebook were to create a tool for your brand to organize, sort and target its fans—maybe even share data with your existing CRM to access fans, customers and prospects across platforms. Would your brand pay $5/month for that?
As of March 2012, Facebook reported 42 million Pages with 10 or more likes. (Source) Let's assume 30 million of those are legitimate brands. If Facebook could monetize just over half of them at only $5/month, it would pocket $1 billion in annual revenue. (The company's 2011 revenue was $3.7 billion.)
And, if your brand were to pay to play on Facebook, would you still want to share so much information from others? Or would you want your presence to be more pristine, more brand-focused, but still engaging?
Rather than sharing mostly content from others, I see companies winning on Facebook by creating and sharing valuable brand- and fan-focused content. Think photos, videos, contests, games, and other assets that draw people into your—that's right, your—brand's presence on what's fast becoming the most used website in the world.
Give people reasons to visit, to engage, and then click that magic little "like" button that will give you an all-access pass to all the data they've shared with their "friends" on Facebook. And now, you can sell them in the way they want to be sold. This will be the value of a "like."
What do you think?