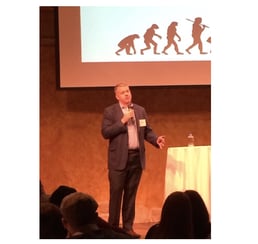 The media landscape is changing and fragmenting. New digital, social and mobile channels continue to fuel how, when and where we experience media. More streaming TV content is available online than ever before. In fact, the NFL recently announced that for the first time, they will broadcast a game only through the internet next season.
No one is embracing these changes more than ESPN. At a recent American Advertising Federation-Cleveland luncheon, Bill Condon (@bcondon33), ESPN's senior director of digital strategy, explained how ESPN is evolving with the changes. Below are a few highlights.
Media Landscape Shifts to Mobile and Social
ESPN's goal is to serve fans everywhere they consume content. Condon offered a few statistics to show ESPN's audience shifting to digital platforms:
60% of ESPN's digital video daily 22 million reach is on mobile devices.
50% of the 93 million households that watch the "Watch ESPN" app are from over-the-top (OTT) video devices like Roku, AppleTV , Amazon Fire TV, etc., as opposed to mobile devices.
ESPN's digital video averages 485 million monthly views.
ESPN signed a deal with Dish Network's Sling TV that allows viewers to watch ESPN online. Rather than going after "cord cutters," the service goes after what Condon called "cord never haves," or the generation that has never paid for a cable subscription.
ESPN is also exploring new advertising opportunities. The "Watch ESPN" app offers exclusive live events that serve different audiences. For example, the top viewed sport on the app in August was cricket. Advertisers can reach more targeted and niche audiences through this platform than through traditional TV ads.
Learn as They Go
Over the last three years, ESPN has learned and adapted in the digital space. The company looks to identify, invest and test emerging trends. Condon went over three main areas.
ESPN Apps: In 2013, ESPN had 45 apps. According to Nielsen, a person used an average of 26.8 total apps in a month as of Q4 2013. This was only a slight increase from the prior two years, while time spent on apps continued to steadily increase each month. This led ESPN to consolidate to fewer (14) apps, with higher quality content to engage users for longer periods of time.
Social Media: ESPN uses social media to distribute information and drive its audience back to ESPN.com. It also uses social for one-to-one engagement, and was one of the first brands to embed video on Twitter. The brand creates specific content for Snapchat Discover to reach a new, younger audience.
Programmatic Advertising: "Programmatic" advertising refers to "automating the buying, placement and optimization of advertising." ESPN is testing one of the first programmatic TV applications by selling ads for SportsCenter through a web-based auction. Helping clients to be more efficient in reaching their target audience increases the brand's ad value.
Preview of the new ESPN.com
Condon previewed the new ESPN.com (now launched) while explaining the company's goals for the redesign. Responsive design was important to give visitors the same experience on any device. Part of this design includes a news feed format like Facebook's.
Because online views continue to trend toward video, the site includes more video clips. Video highlights and news clips are easier to access.
ESPN also wants to emphasize the social aspects of its site. This includes making videos and stories more sharable.
Finally, the new site features more ways for users to personalize their experience. It's meant to be responsive and to "learn" based on users' behaviors, such as the teams and sports they look at. The company believes users will enhance their experience by creating an account and logging in when they visit the site. With an account, users can access options like viewing their favorite team's scores and news on the side panels.
As the landscape continues to evolve, expect ESPN to change along with it. As Condon said as he began his presentation, "Change scares people, but if you don't, you'll be irrelevant."
Like this? Subscribe to the PR 20/20 Blog!
Image Source: Jeremy Bednarski (@jeremybednarski)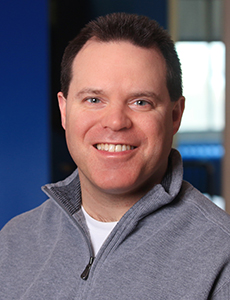 Jeremy Bednarski
Jeremy Bednarski is a senior consultant at PR 20/20. He joined the agency in December 2014 and earned his MBA from Cleveland State University with a focus in marketing. Full bio.