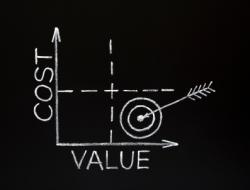 This article was originally published on the Marketing Score Blog. We decided to share it here as well because we think you'll find great value in it. Let us know what you think in the comments!
--
Social media has changed the way we do business, engage, gather information, and evolve and experience our culture. When we check-in, post updates, Tweet, and connect with brands and individuals through online communities, we share knowledge and expe
riences with the circles most relevant to our personal and professional lives.
As a business strategy, organizations and professionals use social networks to expand their online presence, engage industry influencers and peers, and share valuable content. In Section 8 of the Marketing Score assessment, members are asked to rate their organization's use of social media in achieving 11 relationship- and brand-focused goals.
If leaders in your organization struggle to find value in social media for business, consider the following value-adds associated with establishing a strong and strategic presence on social networks. From internal communications and culture, to sales and thought-leadership, social interactions have the ability to impact your business from top to bottom.
11 Ways Social Media Can Impact Your Business
Build stronger connections among employees, colleagues and peers. If you use social media to interact with colleagues and peers, you're able to connect with more people, more often than you would relying solely on in-person interactions. Whether you work in the same office, or have satellite offices around the world, social media helps you share experiences and information, and can shed light on personalities and interests.

Have a culture that's hesitant to mix personal and professional lives on public networks? Many organizations implement enterprise social networks (ESN) into their internal communication strategy. Systems like Tibbr and Yammer are examples of leading internal social networks that enable private dissemination of information and virtual workplace collaboration.

Could your organization benefit from an internal social network? Read the PR 20/20 success story on how we integrated Yammer's enterprise social network to improve our internal communications.

Connect with existing customers in a more personal way. We typically use email, phone calls and meetings to conduct customer communications, but your customers/clients are social people too. Does your team connect with and engage them beyond shoptalk? When your team takes time to acknowledge vacation pictures, birthdays, professional milestones, company content shared, etc., they utilize social networks to create more meaningful, personal connections.

With larger scale, B2C companies, customers may turn to social networks for praises, complaints or questions. Are you there to respond? If not, what opportunities are you missing out on?

Connect with and nurture leads as part of the sales cycle. Does your marketing or sales team use social media to connect with and monitor priority leads in your sales funnel? Do they actively respond to opportunities presented by contacts that mention the company name/product, discuss a pain point or mention dissatisfaction with a competitor.

As HubSpotter Meghan Keaney Anderson (@meghkeaney) explains, "People are the sum of their entire experience, across channels, across devices, across their whole history of interactions with your company." So why do we still monitor these interactions in silos?

Well, we don't have to. Tools like HubSpot's Social Inbox enable you to put context to social interactions by connecting them with profiles in your contact database. Recognize priority leads and customers to improve sales conversations and overall customer engagement opportunities.

Develop strong personal brands for our employees and leaders. Ideally, a strong company brand is supported by the personal brands of its employees and leaders. If individuals are given the freedom and support to be positioned as experts and thought leaders in their space, the people they interact with on a daily basis will associate their expertise with your company.

Does your company encourage employees to contribute to the company blog, social profiles and website content? Does the company share their work and enable them to utilize social media for professional branding and networking?

Engage with influencers through social networks and blog commenting. Similar to the last point, organizations and professionals should engage industry thought leaders on social networks to attribute exceptional content they share, pose questions and additional thoughts, and contribute to the ongoing discussion.

One way to gain attention of an industry influencer is to cite their information or thoughts as part of your own original content.

TIP: Make sure to be respectful of high-profile industry leaders and avoid overuse or tagging of their personal handles among your team.

Fill the job candidate pipeline with qualified professionals. How do you recruit top talent to your organization? More and more, companies are turning to platforms like LinkedIn for recruitment purposes. Through company pages, LinkedIn connections, groups and recommendations, employers are able to actively court recruits and learn about their professional skills.

But social media recruitment goes both ways—top-quality candidates that have options will research and evaluate organizations too. Companies and employees using social media should be cognizant of the fact that when you post photos, tag each other in updates, share each other's content, etc. you offer outsiders a glimpse of the company culture and how you interact in real life.

Generate leads. HubSpot's State of Inbound Marketing Annual Report draws conclusions from marketer responses to a series of questions related to traditional and non-tradition marketing tactics, budget allocation, lead generation and sales conversions, strategy, and more.

In 2013 findings, HubSpot reported that of more than 3,000 marketing professionals surveyed "52% of all marketers sourcing a lead from Facebook in 2013 and 74% saying Facebook is important to their lead generation strategies. Company blogs and LinkedIn tie for second place honors, with 43% of marketers generating a customer from each of these respective channels."

Does your company utilize social media and blogging for generating leads? If not, and you're not sure where to start, check out the Social Media Examiner post, 4 Ways to Use Social Media to Generate Leads.

Monitor mentions about our organization, leaders and competitors. At bare minimum, you should know what your customers say about you online. Set up Google Alerts and utilize other social monitoring tools to capture mentions of your organization, leaders (or at least yourself) and competitors to capitalize on customer service and brand reputation management opportunities.

If you want to take it to the next level (like #3 and #7), follow mentions of your competitors, products and pain point terms. When one of your competitor's customers expresses dissatisfaction with their experience/solution, jump in on the conversation and say, "Hey unhappy customer! Sorry to hear about your experience, our company would love to provide you with better service/solution. Let's chat!"

Share original content (blog posts, eBook, case studies, videos, etc.). At its core, social media is about sharing content—articles, images, thoughts, video, etc. If used properly, it can serve as a distribution channel for your company, enabling you to reach wider audiences and share value with them.

How effectively do you use social media as part of your integrated content distribution strategy?

Raise your profile within the industry. Your social media strategy should position you to connect with a variety of target audiences. Collectively, your organization's social interactions will increase brand reach and showcase expertise in your industry.

How well does your organization leverage social media to connect, and share valuable content with, analysts, customers, competitors (or similar organizations), employees, peers, thought leaders and publications?

Stay on top of industry trends and news. Many professionals (myself included) turn to social media to gather their daily digest of industry news and awareness of growing trends. With an endless list of online trade pubs, blogs and newsletters that catch your eye, social media can help cut down the clutter, and streamline your consumption of content.

Instead of subscribing to every outlet or publishing platform, social media tools (i.e. Twitter lists or TweetDeck columns) reduce emails and better segment content based on type of producer (i.e. industry pubs, peers, competitors and influencers) or by topic (i.e. marketing, tech, customers, etc.).

Does your team follow industry pubs, peers, competitors and influencers to keep tabs on the content they produce and industry conversations?

Brands, consumers, media and other professionals utilize social media for expanding reach, nurturing relationships and staying relevant. How well does your organization make use of social networks to reach marketing and sales goals?
Other Resources
Social isn't all memes, it has real business value. Debunk the common myths and focus on real business impact.
Whether companies like it or not, social media has changed the way buyers research and validate purchasing decisions, interact with peers and share their experiences. Need to bring your organization on board with social? Make a case for social business.
Get your feet wet in social by monitoring the conversations surrounding your brand, customers and competitors. Think the basic tools aren't robust enough? Consider a paid solution.
How are you using social media to build relationships and deliver value? Let us know in the comments below.