There is no disputing the value of great content and its importance to an organization's marketing strategy. But we have entered an era in which the Internet is being flooded with "fast food content," as described by Michael Arrington in a recent TechCrunch article. To help break through the clutter, you need to make your copywriting highly relevant, focused, creative and technically sound.
Copywriting is the use of words to promote a person, business, opinion or idea. Think about the copy you read, including Web content, and notice that strong writing doesn't always mean dazzling readers with jargon (i.e. Gobbledygook). It's the pieces that speak direct to the audiences, and offer something to take away, that drive readers to take action and share with others.
3 Tips to Strengthen Your Copywriting
Know Your Purpose
It may seem obvious, but with so much content being published, it is important to set objectives for your writing. Whether to inform and educate, fulfill a need, answer or ask a question, share new ideas, generate leads, or create an emotional connection, write with purpose and prompt readers to take the desired action.
Make it Relevant
Strong copywriting is relevant (i.e. has value, addresses needs) to the audience it is intended to reach and the publishing medium. Relevancy is not based solely on the understanding of readers and platforms, but through the research and discovery work done to create the piece. Length parameters are not as important when highly relevant content is being presented.
Be Style-Conscious and Consistent
Concise & Powerful – Time and space constraints, combined with ever-decreasing attention spans, warrant the need for concise and powerful content. Writers can find success completing ideas in as few words as necessary, using plain language, and reducing Gobbledygook, idioms, slang, clichés and jargon. You can grade your content at the Gobbledygook Grader.
Tone – Writing tone should match the purpose of the piece, from formal to casual, serious to light, or positive to negative. Consistency is key unless a strategic change in tone supports the goal of the piece.
Format – Whether it is a technical, creative, or a philosophical piece, the style format should not be hard to identify, and should fit the audience.
Reading level – Work to write to the level of potential readers, and keep the level in mind throughout the piece.
Consistent in person and voice – Strong writing uses an active voice to create a personal connection, and offers consistency when writing in first, second or third person.
What else?
I've offered a few guidelines, but what else can copywriters do to differentiate their work from the mass content being published?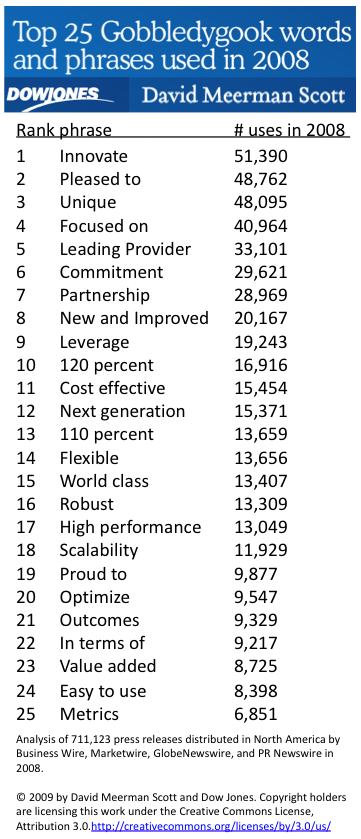 For more resources on making copywriting concise and powerful, view David Meerman Scott's Web Ink Now blog post Top Gobbledygook phrases used in 2008 and how to avoid them.
Capadona-Schmitz is an assistant vice president and consultant at PR 20/20, a Cleveland-based inbound marketing agency and PR firm. She can be found on Twitter @ChristinaCS.