In today's Picks of the Week, our roundup includes: Search — defining the long tail and Google's emphasis on local search; PR — Chevron PR hoax and The Washington Post discouragement of journalist social media engagement.
Search Marketing
SEO 101: Defining the Long Tail
For those who have heard the term 'long-tail ke
ywords,' but don't know what it means; or for those who know what it means but don't understand its significance to search marketing, I highly recommend reading Conversation Marketing's Ian Lurie's post, "SEO 101: Defining the long tail."
Lurie defines long-tail keywords as, "Specific, niche search phrases, usually more than two words in length, that offer a low competition, low search volume and high searcher intent."
In his post, Lurie provides an example from real data on how long-tail keywords that drive one or two visitors can add up to generate as much, if not more, traffic than a 'head' term (keywords made up of 1-2 words with high search volumes). He also provides evidence that long-tail terms drive traffic that is more likely to convert and generate more revenue.
A few statistics from SEOmoz on long-tail searches:
Long-tail terms comprise 70% of all search queries.
The top 1,000 terms searched only comprise of 10% of all search queries.
The main marketing takeaway from this article:
Don't worry about how high you're ranking for a specific, high-search volume keyword.
Concentrate search marketing activites around terms that most accurately reflect customer needs.
The main yardstick to measure the progress of your search marketing efforts is total organic traffic. Read the full article at: http://www.conversationmarketing.com/2010/10/long-tail-seo-101-defined.htm
Local Search
Google Puts Emphasis on Location in Search
Earlier this week, Mashable's Ben Parr gave us an overview of Google's new emphasis on location and location-based search. Google has updated its interface to place the location setting in the left-hand column of the search engine results page, and the location-based results on the right.
Google will automatically detect your location; however, if you wish to see results for a different city or for businesses within close proximity to a specific address, it also gives you the option to select a new location.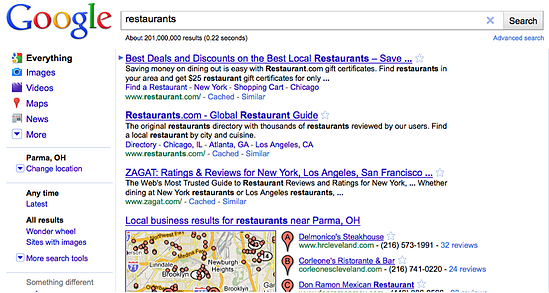 According to Parr, "While nothing has changed in the back-end of location-based search, the simple fact that Google has prominently placed it on the left-hand side, where millions of eyeballs will catch it, is not a small change. Google clearly understands that location plays a vital role in search, and with the rise of mobile and GPS, Google has been adding more and more location-based search features."
The features will be available to users in more than 40 languages soon. Check out the full post on Mashable.com.
Public Relations: Damage Control
Pranksters Hijack Chevron Corporate-PR Efforts
Mock PR campaigns are no laughing matter to the companies, media outlets involved.
An Oct. 18 Advertising Age article by Rupal Parekh and Michael Bush explores the recent corporate PR hoax that hit oil giant Chevron. The article states that the hoax was far more elaborate than the BP Twitter feed hoax and was timed to the launch of a real ad campaign.
The article outlines the tactics employed by the purported pranksters (The Yes Men activist group), which included:
A fake website that parodied the real ad campaign.
Fake press releases with fake quotes.
A fake story planted on a fake Ad Age site.
The question remains: What can, or should, media and marketing professionals do when faced with mock campaigns and fake media blitzes? The article concludes with a quote from Gene Grabowski, senior VP at Levick Strategic Communications.
"It's like a thumb trap, the more the company tries to defend itself, the more it becomes part of the story and that makes it more interesting. The company being attacked can't effectively fight back itself and that's why these tactics are so effective."
The web provides a platform for empowerment, which fortunately, and unfortunately, includes both a brand's friends and enemies.
Read complete article at: http://adage.com/article?article_id=146559
Social Media and Journalism
Washington Post Tells Journalists Not To Engage on Twitter
In response to a recent social media backlash, The Washington Post requested staffers not answer criticisms or speak on behalf of the publication through their personal Twitter accounts. Following the Oct. 11 publishing of a controversial article on gay teens who commit suicide after being bullied — "Guest Voices: Christian compassion requires the truth about harms of homosexuality" — a Post journalist took to Twitter to defend the article's position on the issue.
"Even as we encourage everyone in the newsroom to embrace social media and relevant tools…
No branded Post accounts should be used to answer critics and speak on behalf of the Post, just as you should follow our normal journalistic guidelines in not using your personal social media accounts to speak on behalf of the Post."- Excerpt from memo sent by Post Managing Editor Raju Narisetti.
The Good
It's important to understand that the Post isn't discouraging the use of social media by journalists. In fact, they encourage staff members to share articles and news with their personal networks. Rather, they are trying to avoid individuals representing the brand as a whole, without the authority to do so or prior to receiving guidance from the appropriate department.
"Perhaps it would be useful to think of the issue this way: when we write a story, our readers are free to respond and we provide them a venue to do so."
Missed Opportunities
As a large organization, the Post is at a disadvantage in that it is unable to ensure each employee is fully informed and aware of the company's public messaging on day-to-day occurrences. While someone might feel passionate about a topic, there is still an overall voice that companies wishes to bring forward to the general public and media.
That being said, Lavrusik points out, "Perhaps a clarification to 'speak on behalf of the Post,' could clear up what is okay for journalists to engage in dialogue. But it is also likely that some journalists will now avoid it altogether." He brings up a good point that in today's media world, social media should be supported, rather than frowned upon.

What were your favorite articles of the week? Comments are open for your opinions.

Stay updated: Subscribe to the PR 20/20 blog, check us out on Facebook or follow the team on Twitter.