At this year's INBOUND 2014 conference in Boston, one session in particular really got me thinking about brand / consumer relationships. In his session, "A Culture of Change: How Brands Adopt to an Ever-Changing Consumer," president of Twist Image, Mitch Joel (@mitchjoel), pointed out two trends that are changing the rules of modern marketing.
Today's consumer doesn't need to own.

Why own when you can share, and increase cost efficiencies at the same time? Two prime examples: the increasing popularity of shared music, like

Spotify

, shared spaces, like

Airbnb

,

and shared transportation, like

Lyft

.

According to

Fast Company

, "Airbnb has become one of Silicon Valley's most imitated successes. There are Airbnb-inspired companies for sharing cars, parking spaces, laboratories, and grown-up toys like boats and motorcycles."
There's a

battle for relationships. Technology has encouraged direct brand-to-consumer relationships. Engagement isn't included in your average sales funnel, but it should be. Today's consumer wants to interact with their favorite brands. Joel noted that traditionally brands have dedicated 30% of efforts to building relationships and 70% to promotion. But, "in the new world that flips."
Knowing what we do as marketers, how can both B2B and B2C brands truly speak to the modern consumer?
A Shared Experience … Through Content
You are what you publish. Every word on your business blog adds up to brand personality and image. Bottom line: content is impactful. And luckily, there are ways to reach today's efficient, interactive consumer through branded content.
Step 1: Create content that helps consumers become part of brand culture.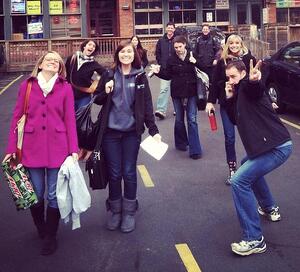 Here's the downside: Unless your business markets a one-of-a-kind product or dominates the market for that said product, there are probably a number of quality choices available.
In a crowded marketplace, consumers buy from brands they identify with. Yes, it's still about a product or service, but now, more than ever, it's also about the experience. Consumers want to feel like they are taking part in something great.
One easy way to do this is to showcase the people behind the brand. Here at PR 20/20, we get personal on our team pages (i.e. I'm a sucker for blueberries, Angela Masciarelli doesn't like red—unless it's wine, and Keith Moehring has a great Donald Duck impression).
Consumers might also be more invested in your brand if they have the opportunity to contribute to culture and messaging. Ask for feedback via your blog or website. Let consumers tell you what they think, and open the door for two-way communication. It might be through a poll, survey, social media or simply eliciting comments.
The Etsy blog recently published a post asking readers to "share your #etsyfind." Readers were instructed to share a photo via social media with the associated hashtag. Etsy featured a few initial "finds" in the blog post, and keeps a running list here. Beyond the sale, Etsy found a way to create its very own consumer culture, or community.
Step 2: Create content that gives your brand celebrity status.
Stop selling, and start making friends. Begin by creating content that makes you likeable. Buzzfeed is a prime example. While we all can't be Buzzfeed, we can create content that's relatable, humorous and interesting.
Putting the recent #onlyintheapp campaign aside, Taco Bell usually keeps consumers laughing on social media, and commercial advertising. A recent Snapchat story featured "everything you need to know about getting a #homecoming date."
If Taco Bell was a person, who wouldn't want to be his/her friend?
YouTube sensation, Bethany Mota, also does this well. By posting engaging, relatable videos on her YouTube channel, she has built her very own empire. According to Business Insider, she beat out Lady GaGa in number of YouTube subscribers. In his INBOUND session, Joel pointed to this video, which already has more than 5 million views on YouTube. Now, that's celebrity status.
Step 3: Avoid content marketing no-no's.
Don't be the metaphorical salesman who calls during dinner. Below are a few of my biggest content pet peeves.
Industry jargon.

Speak to the consumer, not the subject matter expert.

Too many words.

Balance your blog with multi-media and long-form content.

Self-serving content

. Time is precious. Make the read worthwhile by informing or educating.

Fluff

. Offer something of substance.

Overselling

. Your headline should give the reader a good indication of how the content will educate, inform or entertain. Set clear expectations.
We want to know what you think. What types of content keep you coming back? What drives you away? Please feel free to share in the comments below!

Sandie Young
Sandie Young started at the agency during the summer of 2012, with experience in magazine journalism and a passion for content marketing. Sandie is a graduate of Ohio University, with a Bachelor of Science from the E.W. Scripps School of Journalism. Full bio.