Content marketing, the publishing of relevant, link-worthy content, has been all the rage for marketing professionals for several years. A recent survey conducted by content marketing authority Junta42 shows that companies, especially small businesses, are continuing to spend more on content marketing each year because it is more effective than traditional marketing for differentiation in the marketplace. Leads, sales and client retention are better achieved when companies are resources for their customers and help solve their pain points.
Now, the new wave of content marketing has arrived: content curation.
What is content curation?
Rohit Bhargava defines a content curator as someone who continually finds, groups, organizes and shares the best and most relevant content on a specific issue online.
The term "content curation" stems from traditional museum curation: museum curators collect art and artifacts and identify the most relevant or important to be displayed in an exhibit for the public. Museum curators are subject-matter experts with higher levels of education that guide an organization's overall art collection. Curation has also, historically, referred to overseeing the care and preservation of precious collectibles.
With the overwhelming amount of content available on the Internet today, it is difficult for professionals to efficiently manage their daily reading activities, as well as separate useful and accurate content from poor content. This is where content curation comes in, allowing individuals or businesses to provide a valuable service to their audiences by addressing their need for quality content and the lack of available time to find it.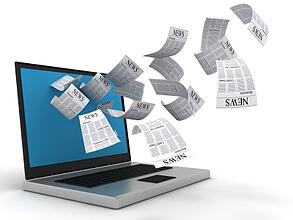 Further, by sharing the most relevant, thought-provoking online content, curation can establish individuals and companies as authorities and thought leaders. Content curation can enable individuals and companies to stand out in the marketplace and influence buyer behavior during a time when everyone is fighting for recognition.
The content curation debate
Content curation has received increased attention recently from marketers and journalists, as well as traditional museum curators. In fact, Pete Cashmore, CEO of Mashable, believes that content curation is one of the top 10 Web trends for 2010. Other thought-leadership pieces that have fueled the curation discussion include:
There is a mix of acceptance and reluctance surrounding content curation, and much of the debate revolves around the value of a content curator.
Curation: The purists vs. the realists
There is a certain level of "intellectual snobbery" in existence from the point of view of traditional museum curators (the "purists"). Many museum curators have PhDs in their area of expertise, and believe that it is only with the highest level of education, and many years of research and experience, that one can be a true curator.
With the term "curator" evolving into the online space, digital content curators (the "realists") believe that content curation is a legitimate practice and that its value is evident.
Museum curators argue that, when applied to digital content, the term curation is a bit of a stretch, and that content curators are simply filters of information. Marketing influentials disagree and believe that, using a high level of industry expertise, content curators can provide the same value as a museum curator to their own industries.
Social sharing: Aggregation vs. curation
Sharing dynamic content over social media platforms such as Twitter and Facebook has become a common practice. However, many people, even in the digital world, believe that merely sharing information over social networks is not curation; that without applying high-level expert analysis when selecting content, sharing information is actually filtering or aggregating information, not curating.
Online influencers who actively participate in curation defend their positions as curators, given their extensive industry knowledge and experience.
On the flip side, for some people, curation has become a fancy way of describing simple aggregation and filtering. Also, many people are using aggregation and curation interchangeably to describe curation as the concept really catches on.
Content curation in journalism: The traditionalists vs. the futurists
There is no question that the traditional news outlet has suffered with the emergence of the Internet, as has the ability of journalists to continue making a living writing. The futurists in the journalism world believe that journalists must evolve with technology and audience behavior, and that content curation is one way that they can do so.
Jeff Jarvis, a journalism professor and author of What Would Google Do?, has talked at length about the journalist as a curator on his blog BuzzMachine. He believes that curation is a way in which journalists can provide additional value to their audiences.
To support this, Paul Gillin, veteran journalist and author of The New Influencers and Secrets of Social Media Marketing, suggests that journalists must learn to curate because their audiences are no longer looking for more content, but for ways to manage existing content. Curation can help journalists stay relevant.
Further, the emergence of online news powerhouses such as The Huffington Post and Newser have approached the need for quality information by curating the best news articles from major outlets across the Web. Traditionalist Rupert Murdoch has fought hard against search engines and aggregation as a means of protecting the traditional news outlet. Newser's Michael Wolff argues that online news curators are signs of changing audience behavior, and that traditionalists such as Murdoch will lose out in the end.
Automated content curation
Robert's Scoble article, "The Seven Needs of Real-Time Curators," recently brought the challenges associated with curation to the forefront. While curation is a fantastic way to bring value to your audience and establish yourself or your company as a thought leader, curation can be time consuming and inefficient.
Many people collect industry information by monitoring Twitter and Facebook, or subscribing to RSS feeds or news alerts, which aggregate content according to keywords. For the busy marketing professional, who is often on the road or attending to clients, the task of curating great content from a flood of aggregated content on a daily basis just isn't a viable option.
Companies such as HiveFire* have addressed the need for curation automation by creating content curation platforms that automatically aggregate and prioritize content, allowing the marketer to focus on curation rather than sorting through high volumes of disorganized content. This functionality enables marketers to effectively and efficiently curate, and makes content curation a viable marketing option.
Curated searching
The need to more efficiently sort through information has become so important that search engines are starting to organize search results in more intuitive ways.
Bing recently announced that it will roll out and test several new features this spring. One of the updates allows Bing to essentially "curate" search results by refining them into categorized topics that it anticipates users are most likely looking for, and listing the most relevant content at the top of the page.
For example, let's say I'm planning a vacation to Maui. When I search for "Maui," in the left column I retrieve relevant categories, or "Quick Tabs," which include topics such as news, hotels, airports and real estate. Bing has assumed that I am likely a traveler, or a resident looking for news or possibly real estate opportunities, and has anticipated the intent of my search by providing me with information it believes will be most beneficial.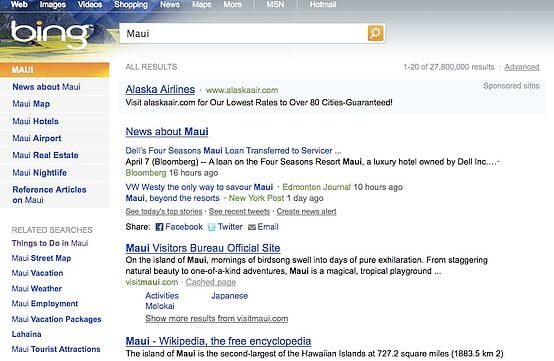 Bing may not be hand-selecting articles for users as content curators do; however, like companies aim to influence buyer behavior through content curation, Bing is trying to help users make informed decisions with minimal effort. This change in methodology demonstrates a major shift in audience needs and a new approach to searcher intent. People want access to great information without a lot of time and effort.
What is the future of content curation?
While content curation is in its early stages and there is a lot of debate surrounding the concept, it has clearly been established as a trend worth talking about. Curation will continue to gain momentum as more marketers start incorporating curation into their content marketing strategies and major Web outlets enhance their features to address changing user needs. Online influencers that believe content curation is here to stay will stand behind it and continue to advocate for its value.
What are your thoughts on content curation? Does it provide value and help individuals and companies establish thought leadership? Are you currently implementing content curation as part of your content marketing strategy? The debate continues here, so let us know your thoughts.
Christy Barksdale is content services manager and consultant for PR 20/20, a Cleveland-based inbound marketing agency and PR firm. Follow her on Twitter: @ChristyHaj.
Subscribe to receive the PR 20/20 blog by email or RSS feed..