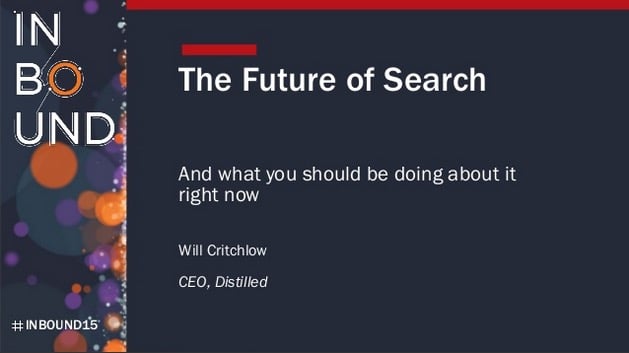 Moz recently released its biannual Search Engine Rankings Correlation Study and Expert Survey. This is consistently an excellent read for anyone hoping to improve their optimization tactics and approach.
The No. 1 item in Moz's Ranking Factors summary reads: We continue to see lower correlations between on-page keyword use and rankings. This could likely be because Google is smarter about what pages mean (through related keywords, synonyms, close variants, and entities) without relying on exact keyword phrases. We believe matching user intent is of the utmost importance.
It was this aspect of search that Will Critchlow (@willcritchlow), CEO of Distilled, focused a large part of his INBOUND 2015 session on. The session, "The Future of Search," described some of the dramatic changes affecting search results, and what we as marketers should be doing now to set our companies and clients up for success.
Searcher Intent and Machine Learning
Everything around search used to be about matching the query—explicit data provided by the searcher—with words on a web page. However, today we are seeing a move toward intent-based search.
Google now has access to a ton of implicit data about you that helps it understand why you made the search you did, including location, time of day, and the device being used. It then factors all of this in before deciding what to show in its results pages and where.
A good example used in Will's presentation is a query for "London Tube Station." Previously you may have seen in your results the Transport for London (TFL) website. Today, Google may show you the nearest stations to your location, schedules and a fare calculator.
The reliance and importance of implicit factors are growing considerably, to the point now where implicit data is actually more important than the query itself.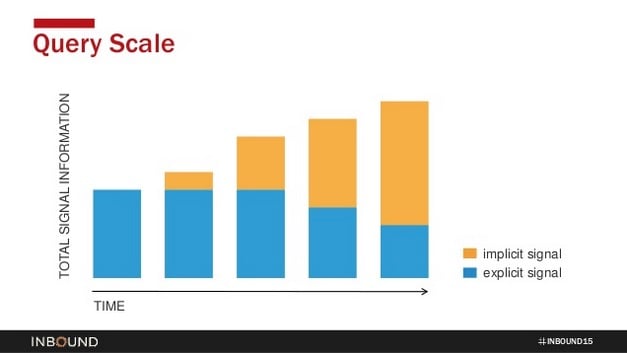 Adding to the complexity of search results is the level at which Google is applying machine learning to personalize its results for you. It has created a weak artificial intelligence that looks at all available data to weigh factors different as they pertain to your specific query. It's so complex now that even the Google engineers can't say for certain why one page ranks over another.
So then, what can we do to ensure the content featured in search results pages matches a searcher's intent?
Optimizing For Users And Algorithms
Google pays close attention to the search conducted, and how many click backs happen (i.e. you didn't find what you were looking for and returned to search results). Engagement metrics provided by SimilarWeb for the Search Ranking Factors Report showed that pages with lower bounce rates and better pageviews, plus time on site were associated with higher rankings.
So, by making users happy we can make the algorithms happy. But how?
Will recommends using conversion rate optimization. Specifically, try running A/B tests on your website and track how these changes affect engagement metrics.
Optimize a page for what would happen if you ranked No. 1. A/B test your page using following questions in this order:
Would I click? Is your page title and meta description relevant to the search? Is it engaging enough to motivate someone to click?
Do I like what I see? Is the page content formatted well? Is it easy to scan? Are there visuals to illustrate the information?
Do I get what I want (do I fulfill my intent)? Is the page comprehensive? Is it clear what my next steps are? Is the information credible?
Run A/B tests for each of these questions. Finding out what people like and dislike is often the most important part of search engine optimization.
If you've never experimented with your a conversion rate optimization before, Moz has a great 5 step framework that you can follow.
As with most inbound marketing, search engine ranking improvements often come on the heels of a concentrated effort to test, measure and evolve.
The Future of Search Presentation Deck
Below is Will's slide deck from INBOUND 15. It's worth flipping through because he has a lot of great slides to illustrate some of the points above.
In his presentation, he also discussed the role mobile plays, the potential shareability of content, and how a crappy mobile experience can cut the number of potential shares by more than 50%. His recommendation to overcome this was not to build content differently, but instead to build different content.
Were you at INBOUND 15 or did you reach Moz's Search Ranking Factors? Would love to hear some other search-related takeaways and tips.
Keith Moehring
Keith Moehring is the vice president of strategic growth at PR 20/20. He joined the agency in July 2006, and is a 2004 graduate of the University of Toledo.