Google Grants is an in-kind donation program that awards free AdWords advertising to qualified nonprofit organizations, helping them increase awareness, donations and support.

By applying for and maximizing Google Grants, your nonprofit organization can advertise for free in front of an audience who is actively searching for information on your cause.
Introduction to AdWords Advertising
Google AdWords lets you bid for keyword search queries related to your cause. When people search on Google using one of your selected keywords, your ad may appear above, or next to, the search results. This enables you to reach an audience who is already interested in your organization's mission.

Users place bids on which keywords they would like to trigger their ads, called cost-per-click (CPC) bids. AdWords users are charged only for those clicks they receive. Google provides keyword traffic and cost estimates to help you make informed decisions.

Including spaces, ads can contain 25 characters for the title, 70 characters for the ad text and 35 characters for the display URL. On Google, this is displayed on four lines: a title, two lines of ad text (each with 35 characters) and a URL line.
Grant Application Requirements & Best Practices
To apply for a Google Grant in the United States, you must have current 501(c)(3) status, as assigned by the Internal Revenue Service.

Restrictions for eligibility include: primarily focusing on selling goods, products or services; requiring membership, having religious content on your Website or serving primarily as a political function.

After checking to make sure that you meet all requirements, fill out the online application as completely as possible. Be sure to clearly convey how Google AdWords can benefit your organization, as well as your understanding of how Google AdWords works. In doing so, the following resources might be helpful:
Note: The application contains sections on your organization's goals and target audiences, but also asks for sample AdWords ads and keywords. (Google's Keyword Tool can be used to help you find and decide upon keywords.)

In addition to your application, Google employees will also review your Website before a grant is awarded. Therefore, be sure to maximize the strength and visibility of your Website by installing and using Google Webmaster Tools and Analytics. These tools will help you diagnose and fix any problems with your Website prior to applying.
Grants are given on an ongoing basis, but they can take up to four months to process.

Optimizing your Google Grant AdWords Campaign
Most grantees are awarded a maximum monthly ad spend of $10,000 ($329/day) with a maximum cost per click of $2. However, the monthly budget can be increased to $40,000 per month for successful Google Grant campaigns.

If you're the lucky recipient of a Google Grant, make sure to put it to the best use possible by employing AdWords best practices. To maximize the impact of your advertising budget, consider the following:
Develop an AdWords Strategy to guide the campaign, including goals, target audiences, priority keywords and ad distribution.
Select keywords that are highly relevant to your cause and that have high search volumes and low competition. These will provide the most optimal return on investment.
Separate keywords into different ad groups by similar core words.
Write targeted ad copy that incorporates targeted keywords and is action-oriented.
Create separate landing pages for each ad group to guarantee visitors are taken directly to the information they are interested in. For example, an animal shelter ad about dogs should take you to a landing page featuring only information on dogs, not on dogs and other animals.
Include a call to action on the landing page, such as "Donate now" or "Volunteer your time."
Monitor your campaign using information from Google's analytic tools; then, make changes to improve your ads' effectiveness.
Log into your account regularly, respond to emails from Google's team and continuously tweak your campaign. As long as you stay active on AdWords, you can stay in the program. There is no set end date or need to reapply.
For more tips and tools on using Google AdWords, check out the Google AdWords Learning Center, which I mentioned earlier.
Your Thoughts?
What tips do you have for maximizing a Google AdWords budget?
How has Google Grants benefited your organization?
What advice would you give to organizations interested in applying for a Google Grant?
I'd like to thank Natalie Villalobos (@nataliaenvy), community manager at Google, for introducing me to the Google Grants program at SXSW.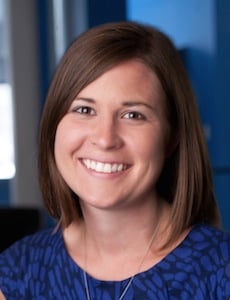 Tracy Lewis
Tracy Lewis is the director of talent and a senior consultant at PR 20/20. She is also the community manager for Marketing Agency Insider. She joined the agency in March 2009 after graduating from Ohio University. Full bio.