The following is a guest post from JP Misenas. JP is the Content Marketing Director & Audio/Visual Technician/Engineer of Interact, a place for creating entertaining and engaging quizzes that generate email leads. He writes about innovative ways to connect with customers and to build professional long-lasting relationships with them. You can connect with JP on Twitter or LinkedIn.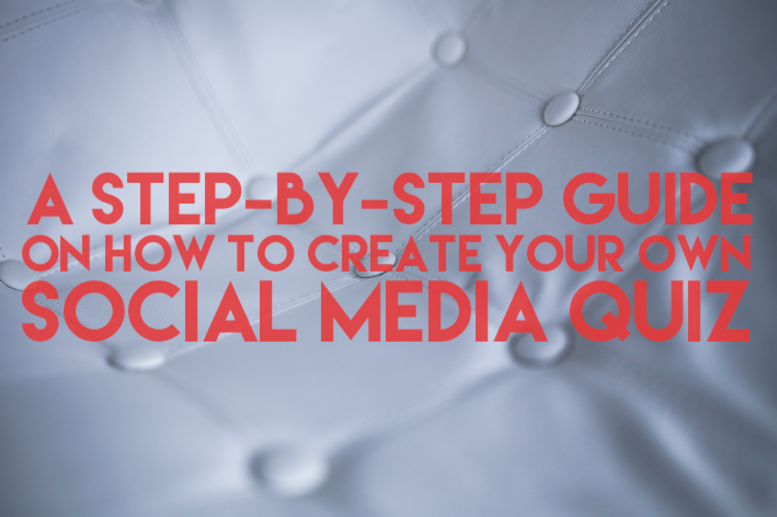 Have you ever wondered how certain brands outperform others by thousands or even millions of pageviews? The secret has to be with the kind of content they're producing, obviously. But what exactly is that content, and what makes it perform so well time and time again? We've got your standard blog posts, ebooks, infographics and videos, but even those types of content can only go so far.
Take a moment and try to surmise one of the more popular types of content that you'd normally see on social media. Did the thought of those commonly seen quizzes on social media networks pop into your mind? Now what if you could take those quizzes, and implement them into your content marketing strategy? Now we're onto something.
With their vast reach and versatility, social media quizzes are capable of engaging and entertaining audiences, boosting social traffic, driving revenue and generating leads. By adding social media quizzes into your repertoire, you'll be doing your brand a huge favor.
I'll show you how to create your own social media quiz, distribute it, and follow up with marketing automation. Having helped over 10,000 brands create more than 25,000 quizzes with Interact, I'll explain the tricks of the trade and even highlight a prime example as we walk through the quiz creation process. So let's get started.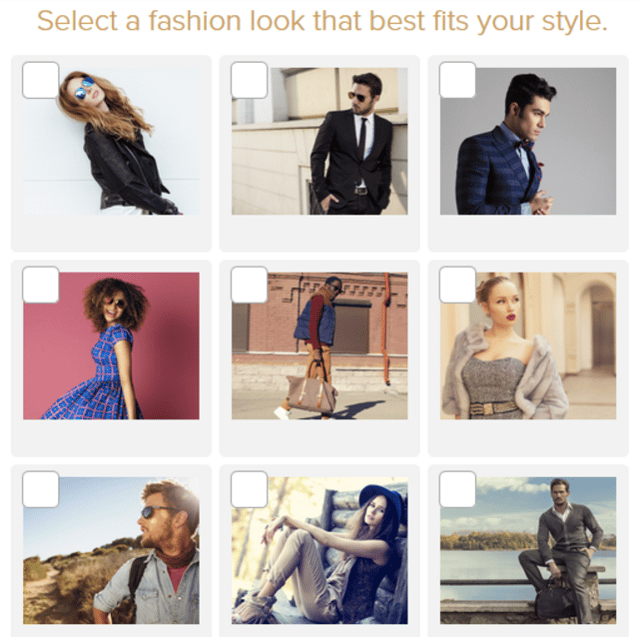 Part I: Creating The Quiz
We'll use Z Gallerie (a brand that we've worked with personally) as an example, and their quiz "What is your Z Gallerie Personality?" to give you a basic idea on how they made their quiz and how they made it work.
Selecting The Right Type of Quiz
When creating your own social media quiz, there's generally two different types. You have your standard personality quiz, and then you have a knowledge test. Let's break down these two quiz types to give you a better understanding of their functions to discover which one will work best for your brand.
Personality Quiz:

This type of quiz typically categorizes individuals into personality types based on their answers. It's simple in nature and attracts audiences with the idea that this quiz will tell them something about themselves. Go with this quiz type if you want to divvy up your audience into personalities.

Knowledge Test

: This type of quiz is an assessment of sorts. You can use this kind of test to gauge how much someone knows about any given subject, and then deliver results based totally on accuracy. Use this quiz type if you want to "grade" individuals or qualify leads through an assessment based on how much they actually know.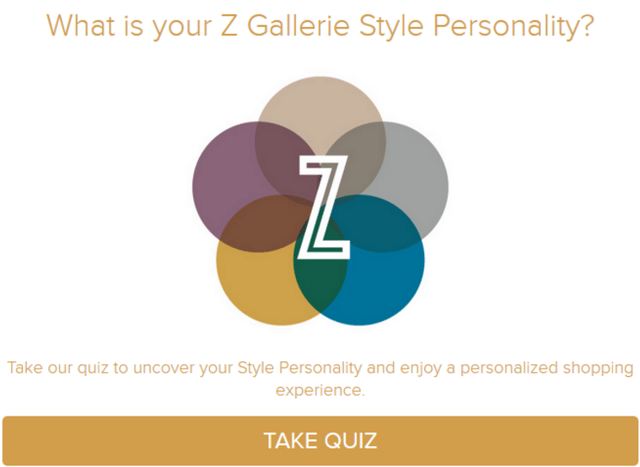 Z Gallerie's "What is your Z Gallerie Style Personality" quiz is, you guessed it, a personality quiz. They created a quiz that categorized each individual into a style personality. From there, Z Gallerie was able to recommend products tailored specifically to each individual based on how they answered the questions in the quiz. By doing this, Z Gallerie was able to personalize the online shopping experience in an incredibly unique way by utilizing a social media quiz.
Crafting The Perfect Questions
Yes, there is such a thing as a perfect question in a quiz. What makes them so perfect? Here's a list of things you should check off when creating your questions so you can achieve that level of perfection:
Be Personal

. Quizzes don't speak for themselves. Infuse your personality into your quiz. The questions are your opportunity to establish a connection with your audience, to approach them as if you were talking to them in person to set a more natural tone.

Use Images.

The perfect question consists of a nice balance between text and imagery. Be sure to use images in your quiz to add another level of entertainment. You could use a single image for each question, or an image for each answer. It's entirely up to you.

Keep Things Short.

Quizzes aren't meant to be full-blown tests. We're talking about aiming between six to eight questions. A quiz of that length usually takes people about 2-3 minutes, which is about all the time we really have with them, so make it count.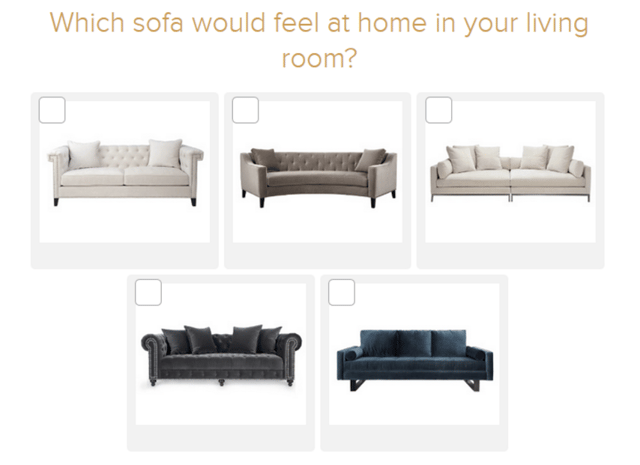 Z Gallerie stuck with the recommended formula and used only six questions in their quiz. What makes it even better is its use of imagery, having pictures as each answer for all six questions. The quiz established a very relaxed feel, as if we were being asked the questions in person. A big tip of the hat to Z Gallerie for knocking off every suggestion on the list.
Setting Up Your Lead Capture
Now then, we didn't create this quiz just for fun now did we? Well, partially. This is the part of the quiz right before your audience gets their results. You're going to trade your audience's quiz results for their contact information. This is how your quiz will generate leads. If you want to optimize the opt-in rate for your lead capture form, here are a few tips you can follow:
Promise value to your audience.

Provide something more than just their results. Include incentives like a free ebook, an entry into a free giveaway, or even personalized emails with marketing advice.

Be honest about your marketing strategy.

Usually enclosed in a privacy policy, make sure you let your audience know what you'll be doing with their information, especially if you'll be contacting them anytime soon.

Only ask for the necessary information.

Most lead captures ask for a first name, last name and an email address. Some even include an option to skip this step. Only ask for information you'll actually use.
Z Gallerie required the bare minimum (first andlast name and an email address) for its lead capture, and used it as a way to personally distribute their results.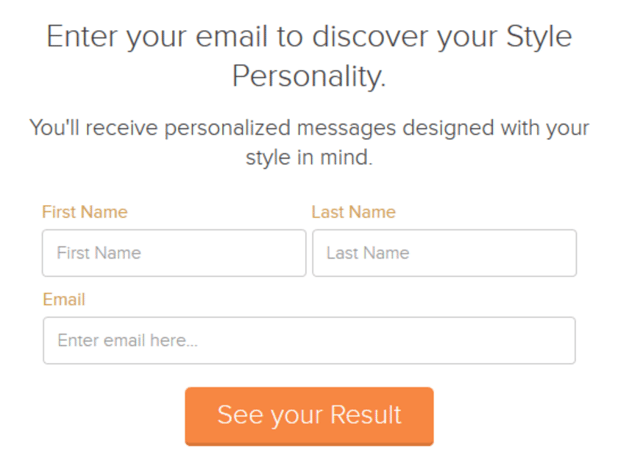 Creating Shareable Results
Now that that's out of the way, it's time to move onto the quiz results. Your visitors aren't the only ones waiting for their results. Surprisingly, you are too. The results to any quiz is where your brand has a chance to go viral when shared on social media. Here some ways to make the most out of the results your quiz delivers:
Be incredibly positive

. Did you know that

positive emotions influences sharing

? Make sure your quiz results are encouraging. You don't want to put your audience down. Evoke positive emotions and the shares will fly off the wall like crazy.

Use captivating images

. As much as we emphasized using images for the questions, including them in the results is absolutely mandatory. Because the results get shared on social media, you want to use images that will attract others to take your quiz.

Include a call-to-action

. Your interaction with your audience doesn't end at the results. Don't be afraid to include a call-to-action leading to your landing page or other products/services your brand has to offer.
Z Gallerie's results screen is short and simple. It even includes an image relevant to the personality someone could get. The "more about your personality" link is a great call-to-action that leads to more product recommendations based on the personality obtained.
Part II: Distributing Your Quiz
Now that your quiz is all set up, it's time to get it out there in the open. Facebook and Twitter will be your main targets for getting visibility for your quiz, but you could also promote it on your own blog. Here are some things to keep in mind when distributing your quiz:
Image Selection

. I can't stress this enough. Make sure you use an attention-grabbing image so that people will stop, look and want to take your quiz.

Headline Choice

. Your headline is just as important as the image you choose. You're going to want something that will attract people to your quiz.

Shortened Link

. Include a

shortened link

to your quiz so that your audience can easily access it. It helps to have the quiz on its own page.

Part III: Following Up With Marketing Automation
After your quiz has gained some traction from your distribution, you'll want to follow up on any and all leads through marketing automation. These emails will keep your audience interested in your brand until it's finally time to convert them into customers. Here's a four-step sequence that you should follow to optimize your conversion rate:
Thank your audience

. The first thing you want to do right after your audience opts in at your lead capture is to thank them for taking the quiz. This first email will also remind your audience that you'll be getting in touch with them again.

Encourage quiz retakes

. After a couple of days, inform your audience about the other possible outcomes they could have gotten. Not only does this encourage them to retake your quiz, but it's the perfect transition from your "thank you" email to other content.

Offer case studies and testimonials

. After about a week, keep your audience interested in your brand with customer case studies or testimonials. This helps establish even more trust between customers and brands.

Convert your audience. After two weeks have elapsed, it's time to close on your audience. Include incentives like a free webinar signup, coupons or discounts, or even complementary products or services to help convert your audience.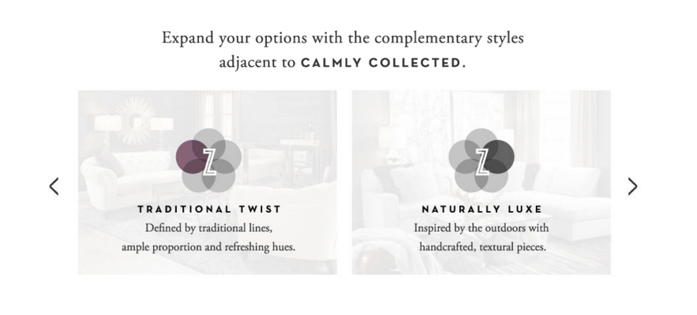 Let's Wrap Things Up
So that's it! Today, we went over how to create your own quiz, how to distribute it properly and effectively, and how to follow up with marketing automation. Throughout the creation process, we used Z Gallerie as an example so that you could get a feel for how they made their quiz.
Quizzes are fun, simple to create, and easy to implement into any strategy. With their various capabilities, these quizzes can make a difference in the kind of content your brand delivers. So rather than dissolving into oblivion with the other brands that use standard forms of content, be one of the few that stands out using something new and innovative.