A website is the cornerstone of any marketing campaign. It is the place where customers, prospects, media, competitors, potential investors, peers and job candidates turn to first when learning more about your organization and its products/services.

Because of this, it's essential that marketers take a leadership role in any website redesign project, which for many means venturing into uncharted waters. To help ensure you are prepared to manage this type of project, we developed an eBook — "A Marketer's Guide to Website Redesign." (Click here to download the free PDF.)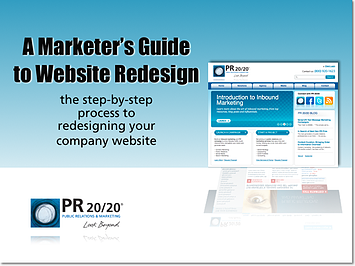 When Ready North first began offering website development services two years ago, we relied pretty heavily on our web partner to make sure we were doing and thinking of everything. As we completed more websites projects and continued to educate ourselves on all the different aspects involved, we started crafting an internal reference guide, which quickly grew beyond a simple task list to include resource links and definitions of key terminology.

Eventually, we agreed that someone needed to formalize and structure this process, from start to finish — to define all necessary phases, set timelines, call out best practices and provide definitions for specific terms.

That led us to develop, "A Marketer's Guide to Website Redesign." This eBook is a reference guide for those marketers who are about to take on the responsibility of managing their company's website redesign. Within it, you'll find:
The Website Redesign Phases
There are six main phases to the website redesign process:
The Prep — Gathering everything you'll need for the site upfront, so it's ready when needed.
Discovery — Collaborating internally to define the most important aspects of the site.
Design & Structure — Developing a creative brief and working with your web team to design the actual look of the site.
Content & Optimization — Managing content development and optimization for all website pages.
Build Out & Q.A. — Populating the site with all content and testing to ensure everything displays and works properly across all browsers.
The Launch — Launching the new website and ensuring it is indexed by Google and other search engines properly.
Definitions, Resources & Key Points
In addition to the steps of the process, we tried to define as many terms and best practices associated with website development as possible, including:
Free Online Tools (e.g. Google Analytics, Search Engine Webmaster Portals, etc.)
Site Navigation Options
Calls to Action Tips
Suggestions on Adding Images
Developing Content
Optimizing the Site
Creating 301 Redirects
Building Sitemaps
Free Downloads within the Free Download
Within the ebook are links to download two templates we use internally for web projects:
Website Redesign Checklist — This Excel doc lists all the redesign steps included in the ebook, and provides a tentative timeline to help set expectations and deadlines on deliverables.
Content Sheet — The Content Sheet is simply a Word doc that has sections reserved for priority page content to assist in on-page optimization and organizing site content. Sections include page title, meta description, URL, image alt text, headline and body content.
Special Thank You
A very special thank you to our web partner, New Media Campaigns, for their support and outstanding guidance. I cannot stress enough the importance of working with a team of developers who you can trust to not only deliver a great site, but also watch your back and make sure you are not overlooking anything important.

Additionally, I'd like to thank HubSpot for publishing some of the most useful resources on the topic of building websites to get found and converting visitors into leads. They provide great tutorials on website design best practices, how to optimize a site and steps to launching a new site, in addition to many other inbound marketing related topics.
Your Feedback
We welcome your feedback, and encourage you to share this eBook with any professionals and communities that you believe may benefit from its content and resources.

Thank you!