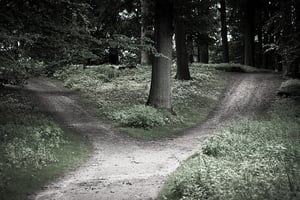 Content marketing has drastically altered the consumer-to-brand connection—from in-your-face advertising to a mutually beneficial relationship.
But, as we approach 2016, we've hit a crossroads.
According to the newly released CMI 2016 B2B Content Marketing Research Report, 88% of organizations use content marketing. The caveat: only 30% feel effective, down from 38% of marketers who felt effective last year.
More marketers are investing in content, but fewer are satisfied with the results.
Why? The shiny novelty of content marketing has worn off, and we're entering a phase Gartner calls, the "trough of disillusionment." No need to panic; content marketing isn't going anywhere. But, new challenges are on the horizon as we move down the "trough" and into the "slope of enlightenment."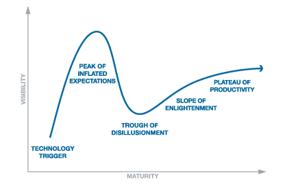 CMI's report found measurement among the top challenges in 2014. And, this year, CMI found 55% are "unclear or unsure" on what content marketing success looks like. Sound familiar?
Looking ahead, the most impactful content marketers will have a clear vision of organizational success. So how do you get there? Below are key insights from CMI's new research as you plan for and navigate the year ahead.
Do you know what success looks like?
In the words of Paul Roetzer (@PaulRoezter): "…it's time for marketers to hold ourselves accountable for having a true impact on business success."
And that was back in 2012 …
It's not surprising that CMI's survey found lead generation and sales will be the top goals leading into the new year, 85% and 84% respectively. Lead nurturing (78%) wasn't far behind.
Following the same trend, 31% pointed to lead quality as THE most important metric.
Now that we understand what's possible, it's time to maximize the potential of content marketing. To do so, 2016 must be the year of purposeful performance metrics—linking content production to metrics that matter to the C-suite.
3 Tips to More Effective Content
Before you can see dollar signs, you've got to lay the groundwork. The first step to getting there: generating more qualified leads.
Marketing qualified leads (MQLs) are the peanut butter to our jelly, the ying to our yang. MQLs spend time browsing our blog posts, adding to conversations via comments and Twitter mentions. And, of course, they likely spend money.
It's not surprising, then, that marketers are more concerned than ever about creating content that engages. In fact, 60% identified producing engaging content as the top challenge for 2016. Another 72% listed creating more engaging content as the top priority.
To get the ball rolling, below are three ways to start stepping up—in the hopes of sweeping those MQLs right off their feet.
Meet with your team more often. The day of the pointless meeting is over. With such a strong focus on productive meetings in 2015, CMI found 61% the "most effective" teams make time to regroup daily or weekly. Tip: Always circulate an agenda and an ask for ideas before heading into a meeting. Everyone will feel prepped to contribute and make the most of your time.
Practice makes perfect. Ellen DeGeneres so poetically stated, "It's failure that gives you the proper perspective on success." And, it's true. Those who feel "sophisticated" when it comes to content marketing (that's only 8%) also feel the most successful.
Agree on a vision statement. It's proven; a documented content strategy is key to making an impact. But, less and less marketers are writing it down. Last year 35% had a strategy, and this year only 32% do. It might seem tedious, but it's a necessity. How do you achieve success if your plan is haphazard and your destination is unknown?
Check out CMI's full 2016 Benchmarks, Budgets and Trends—North America for more on the current and future status of content marketing.
A Laser-Focus on Metrics
Rethink or revisit your existing strategy with a holistic approach. From team assessment, reporting, project management and more, PR 20/20's Marketing Performance Pack is a comprehensive campaign planning toolkit.
Download the pack for free and get started today.
Image source: Flickr Creative Commons, Carsten Tolkmit

Sandie Young
Sandie Young started at the agency during the summer of 2012, with experience in magazine journalism and a passion for content marketing. Sandie is a graduate of Ohio University, with a Bachelor of Science from the E.W. Scripps School of Journalism. Full bio.