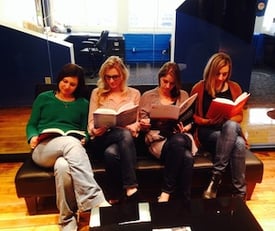 My daily mantra as an inbound marketer: stay focused, be passionate.
To do both, I get a lot of inspiration from peers and influencers alike. Hence my obsession with keeping tabs on industry blogs, and finding those articles and authors that impact my own way of thinking. The ones that give you that "woah…#mindblown" moment.
If, like me, you're always looking for new marketing resources, you've landed on the right blog post.
Below is a guide to the PR 20/20 team's favorite blogs and publications. We're constantly trolling these URLs for nuggets of information or fascinating research.
Disclaimer: We love other blogs, too. These are just a few of our favorites. Sorry if we missed you!
The PR 20/20 RSS: Must-Reads for Inbound Marketers
For Content Marketing, we like…
Check out (and follow) Joe Pulizzi's Twitter list, Content Marketing Blogs for more.
For Social Media, we like…
Check out (and follow) Buffer's Twitter list, SM Thought Leaders for more.
For Search + Analytics, we like…
Check out (and follow) Moz's list, Most Influential SEO via Wefollow, for more.
For Tech, we like…
Check out (and follow) Mashable's Twitter list, Tech for more.
For Marketing in general, we like…
Checkout (and follow) Marketing Score's (@MKTScore) Twitter list, Marketing Leaders for more.
For Business, we like….
Fast Company (@FastCompany): Intelligent pieces for both personal and professional endeavors.
Harvard Business Review (@HarvardBiz): Inspires professional development. Tip: we really like the HBR newsletters via email subscription. Plus, if you register, you can save your favorite articles in your own personal library.
Check out (and follow) Fast Company's Twitter list, Most Innovative Companies for more.
When we need a break…
Pinterest (@Pinterest): No articles, all images. Pinterest breaks give us a boost of creativity when we need it most.
Want to keep up with what we're reading (and tweeting)? Follow the PR 20/20 team.
Feel like we missed something? Let us know what you would add to the list in the comments below.
---
Like this? Subscribe to the PR 20/20 blog!
Image Source: PR 20/20