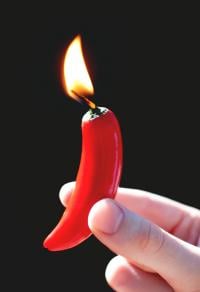 Big Ass Fans.
It's a real company that sells fans. Really large industrial fans.
There's not much that's less interesting than industrial fans. And yet chances are, you're still reading.
Why?
Because what Big Ass Fans sells—and how boring it may be—doesn't matter. What matters is how they tell their story. What matters is how they grab your attention, and keep it.
Just because you're a B2B organization (or market for one) doesn't mean you have to be boring. In fact, because B2B is stereotypically dull and uninteresting, the content that defies those stereotypes shines all the brighter.
Here are three ways to spice up your B2B content and do just that—along with examples of who's doing it right.
Think Like a Journalist
Good journalists grab your attention by the horns, and refuse to let go. They employ hooks, personalization, quotes, timeliness and many other tactics to win eyeballs and keep them glued to the page.
For journalists, content is more than just blogging or web content. It's even more than writing. It's the narrative or storytelling that transcends the medium used. Whether it's writing, filming or even live-tweeting a story, they follow broad principles and use specific devices to keep readers engaged. Think like a journalist to reel your audience into B2B content and keep them there:
Sniff Out the Story — Journalists don't tell you facts. They tell you stories. Facts, quotes and the rest support the narrative. The purpose might be to entertain you, educate you or make you cry. Discover your story. Even the most boring B2B product or service is part of a larger story. It doesn't do something or have something; it makes lives easier, better or safer. Tell the story of how.
Hook the Reader — The hook is the attention grabber right at the story's start that makes you want to read more. A fact, story, quote, statistic or tidbit that makes readers sit up and pay attention. Every industry has them. Find yours.
Invert the Pyramid — The good old inverted pyramid is a journalistic standby. The upside-down triangle of an inverted pyramid represents a simple truth: put the important stuff first. Why? Just because you've hooked a reader doesn't mean they won't slip off the line. Now that you have their attention, tell them what they need to know, learn or feel, before you lose them.
You're Doing It Right — Law Firm Turns Into Chinese Drywall Expert
You'd be hard-pressed to find a more comprehensive account of how Chinese drywall is hazardous than this information resource. But it doesn't come from an investigative news report. It's a website created by law firm Roberts & Durkee.
They embrace the inverted pyramid, and a host of other journalistic techniques: The first thing you see on the website is the news itself, then why it's important and, finally, who it affects and why you should care.
(Found via Content Marketing Institute's 100 Content Marketing Examples ebook)
Sweat It Out
Every B2B business, especially a highly technical one, has two faces: The one they present to customers, and the one they have when the down and dirty work is being done.
Whether you're in engineering, commercial roofing, tech services for the enterprise, or any number of other B2B product and service businesses, spice up your content by pulling back the veil.
Does anyone really believe you just show up, snap your fingers and produce results for customers? Show the sweat equity. Create content that shows not just what you do, but how you do it. Go out into the field. Report from on-site. Show the day-to-day guts of what makes your business run. It's not only compelling; it's different and human.
You're Doing It Right — Boeing Shows You How It's Made, and Who Uses It
The airplanes manufactured by Boeing are cool, sure. But just watching them fly isn't enough to attract attention in a world of 24/7 content, where B2B brands compete for attention with sensational content of all sorts (like a man making a 24-mile-high basejump).
That's why Boeing's doing it right: It pulls back the curtain on how the company's amazing machines are made, and then goes one step further and shows how they're used daily in the U.S. Air Force, the space program and the military on the Boeing YouTube channel. The result? An engaging look into the nuts and bolts of aircraft, and almost 14 million views to date.
Give Your Audience All of the Feels
There's a reason even the toughest, most rugged souls click on cute animal videos, epic montages, and tear-jerking tales of inspiration. We're hard-wired to feel. And guess what? B2B content consumers aren't robots; they're people, too.
Pick the driest product, service or industry you can. At the end of the day, it affects someone's life, employment or happiness. It isn't always easy to determine how. But you can, and must. Because it's not about the product or service. It's about the people who make it possible, and the people who it benefits. Every B2B company can find an industry or company-specific story about families in need, the struggles and successes of a business owner, or simply those little entertaining moments on a tough job.
Those moments are everywhere, in every industry. Find them, and use them to create content that makes people feel.
You're Doing It Right — Shipping Company Maersk Reports a Miracle Rescue
Nothing could be more impersonal than a titanic container ship with thousands of identical boxes carrying goods across an empty ocean.
That's why this video content from shipping company Maersk is all the more remarkable. The company interviews the crew of one of their ships that lost a man overboard, then chronicles the story behind his miraculous rescue. It takes an impersonal business, and turns it into one that's dangerous, but full of courageous, inspirational people.
(Found via Search Decoder)
The truth is, B2B content doesn't have to be boring. Neither do the brands behind it. In fact, boring is increasingly a liability: We live in an increasingly noisy world. Consumers have more power than ever to choose which stories are worth listening to. More often than not, boring isn't one of them.
Be boring at your own risk.
How do you spice up your B2B content marketing? Let us know in the comments!
Image Credit: RCB via Flickr