This post is part of HubSpot's second annual Inbound Marketing Week, a worldwide series of events inviting marketers to share industry knowledge and strategy best practices.
At the onset of each year, marketing influencers and brands weigh in on the leading trends expected to impact our industry. Even through the repetition, we continuously look to these articles with hopes that they will illuminate the keys to success or, better yet, provide us with an entirely new concept or idea.
In 2015, the conversation has been heavily dominated by a few obvious leaders—marketing automation, contextual marketing and personalization, mapping the customer journey, humanizing brands, content across screens and channels, big data, the convergence of paid, owned and earned media, and so on. These trends, while important, are just the tip of the iceberg of far more radical and exciting changes to come.
But what trends will truly revolutionize our profession and abilities to utilize an ever-growing onslaught of data and information? Below is a snapshot of three up-and-coming trends that should grab the attention of any marketer seeking a more efficient and intelligent way to delight customers and drive performance.
1. Marketing Tech Stack Convergence
How many tools does it take to execute a truly integrated marketing campaign? What about effective management of your team and individual projects?
Depending on who you ask, you'll probably receive a list of technologies that covers the full gamut of marketing and business management:
Advertising
Analytics
Content
CRM
Email
Marketing automation
Project management
Search
Social
Website
And more.
Some of these tools may be housed in a centralized hub—solutions like HubSpot (@HubSpot), Marketo (@Marketo), Act-On (@ActOnSoftware), while others offer an open API to enable two-way dialogue between the systems. Then you have siloed legacy systems, incapable of helping you increase efficiencies or see a holistic view of activities and performance.
The result? Even the most advanced and agile companies are forced to use a variety of disjointed solutions. But this will not always be the case, as the martech (marketing technology) stack converges.
If you haven't noticed, M&A are all the rage in the larger tech community, as well as in marketing. Companies like Google (@Google) actively acquire startups (big and small) to assimilate their tools and features into a larger product. And in marketing, you have major players like IBM (@IBM) and Salesforce (@Salesforce) competing for acquisition of critical pieces needed to expand their dynamic toolbox.
It's unclear who will be the first to reach the finish line (top contenders include Adobe, Oracle, HubSpot and IBM), but one thing is for certain—Whether the end solution is a result of M&A or development of an entirely new platform, the marketing cloud will increase in size and capabilities to form a singular solution that encompasses all areas in one.
2. Artificial Intelligence
Say the ideal marketing cloud solution becomes available. It would increase efficiencies surrounding how we create, launch and manage marketing campaigns, provide a holistic view of activities across the enterprise, and deliver insights into how customers engage brands on different channels and devices. But what would marketers do with infinite information in a finite world?
As humans, we are limited by our intellectual and creative abilities, knowledge and experiences, and time. Even with access to all the consumer data in the world, we can only draw from it what we are able to comprehend and translate into actionable items.
Like most, you may associate artificial intelligence (AI) with Watson, IBM's infamous Jeopardy! champion and the futuristic alternative to a human workforce. Designed to be smarter, quicker and void of personal bias, AI exponentially decreases the amount of time it takes to collect, analyze, visualize, and then apply data to a given practice.
For example, as Paul (@paulroetzer) noted in his latest Marketing Land column, "While artificial intelligence may seem like a futuristic concept, its use is widespread among companies we interact with daily, including Netflix, Amazon, UPS, Facebook, Google, Salesforce and Microsoft."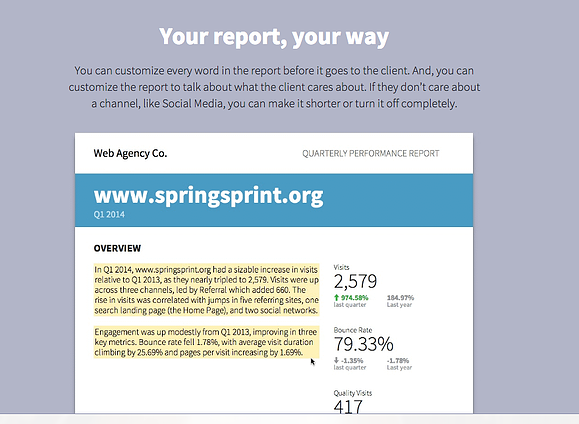 Companies like Automated Insights (@ainsights) are already producing solutions applicable to marketing. The company's Wordsmith for Marketing product (pictured above) is designed specifically to help digital marketing agencies prove ROI to clients through automated, white-labelled performance reports. Using AI, Wordsmith converts raw data into charts and human-like, text-based analysis, including word variations and actionable insights. Where some may be concerned over job loss, others will see opportunity—accuracy in analytics reporting and enormous efficiencies to free up more time for creativity.
The interconnectivity of our lives through digital devices and unimaginable amounts of data being created is nothing new, but how that data is interpreted, applied to strategy and potentially content development could drastically change.
Related article: The Missing Piece of Marketing Automation That Could Change Everything
3. Customer Service, Sales and Marketing Alignment
Mapping the customer journey. Is there a marketing trends report or article you've read that hasn't touched on this topic?
The verdict is unanimous: Brands can no longer consider the customer journey to be a singular, linear experience. It involves multiple channels, devices and sets of data, from first touch point to final conversion, and everywhere in between.
Consumers see all areas of your business—sales, marketing and customer service—as a single entity. So why do we still look at the customer through three different lenses?
While traditionally siloed, marketing, sales and customer service will need to bridge the gap in communication, strategy and implementation. Without collaboration and shared knowledge, brands are unable to create a cohesive, intelligent and relevant experience for their customers.
These teams will need the support of the C-level to reorganize and redefine internal processes, as well as shared technology to see, analyze and respond to the entire, dynamic customer experience. According to Accenture's 2014 CMO Insights Survey, 34% of CMOs surveyed believe marketing, sales and customer service will merge into a single function within the next five years.
If realized in 2015, companies will find themselves better positioned than most to grow their business simply by delighting their customers.
---
Like this? Subscribe to the PR 20/20 blog.
Image Source: Automated Insights