Ever go to the grocery story without a list?
I don't recommend it. With so many options, you usually end up spending too much time wandering the aisles and some items thrown in the cart you can chalk up to impulse (i.e. every Cheez-It box I've ever purchased).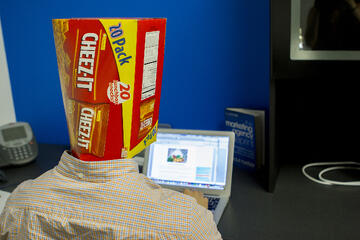 Image Credit: Allie Gottlieb (@alliegott)
Much like the items in a grocery store, there are an increasing number of marketing conferences to choose from, in different cities, at different price ranges and that cover a variety of topics. How do you choose which one is best for your team to attend?
Our 2014 digital marketing conference database is your marketing event grocery list, designed to help you navigate the options, and decide which are beneficial to attend.
The database includes more than 40 conferences across the country, chosen based on their professional relevance, speaker base, educational components, networking opportunities, and overall excitement within the industry.
The database is in Excel format, so you can sort it however you want for quick and easy comparison of the following attributes (when available / applicable):
Event Name
Description
Location
Date
Twitter Hashtag
Twitter Handle
Pass Price
Attendee Summary
Review our database today and certainly let us know in the comment section below if we've missed a good one!
PR 20/20's Event Calendar
The PR 20/20 team is attending the following conferences in 2014:
MarTech — Held August 19-20 in Boston, the inaugural MarTech conference addresses the growing convergence of marketing and technology. With case studies, best practices and the latest marketing technology platforms showcased, MarTech is a top destination for marketing technologists, data scientists and digital strategists.

PR 20/20 founder and CEO Paul Roetzer (@paulroetzer) will be speaking the second day of the conference. His session will be based on his upcoming book, The Marketing Performance Blueprint (Wiley, August 2014), and will cover the convergence of marketing talent, technology and strategy, and the opportunity to build performance-driven organizations. Attendees will learn 10 rules to accelerate success, exceed ROI expectations and outperform the competition.

Inbound 2014 — For those that plan to make 2014 the year they go inbound, this HubSpot-hosted conference starting on September 15 is a must. We've been attending this awesome event in Boston for six years.

Featured speakers, keynotes and breakout sessions promise to bring actionable insight on the latest trends and technological advancements to enhance your inbound marketing programs. Learn tactics that will help you improve any part of your marketing program—from building brand to reducing customer turnover.
Content Marketing World — One word: Spacey. Well, that's just the closing keynote speaker the orange-inspired Content Marketing Institute team has lined up for us this year.

CMW is bringing its popular conference back to Cleveland's Convention Center in the heart of the city. The biggest meeting of content marketers in the Midwest, the September 8-11 event will include breakout sessions, hands-on labs, networking opportunities and more than 100 content marketing experts from around the globe. Come to C-Town, and take your content strategy and execution to the next level.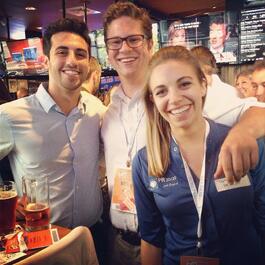 Mike (@MikeKaput), Taylor (@taylorlauren) and I (@sambrenner2020) at last year's Content Marketing World.
Still unsure of which conferences you would like to attend? Download our free marketing conference grader to help you assess which ones you can (or should) skip, and ones that are worth your while. This tool helps you assess conference potential pre-event, set goals for attending, and evaluate your investment upon your return.
Which marketing conferences will you attend this year? Which conferences have you already attended? Let us know in the comment section below.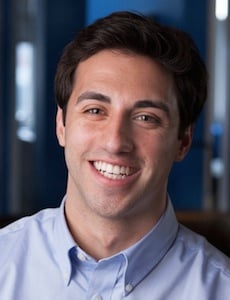 Sam Brenner
Sam Brenner is a consultant at PR 20/20. He joined the agency in July 2013, with experience in technology sales and marketing his own music. Sam is a 2009 graduate of John Carroll's communications department, and has been a proud Clevelander since 2005. Full bio.