Marketing conferences have shaped my top team memories. I always leave events feeling more in sync with my colleagues, and usually with an expanded network of intriguing people. (Pictured below, see our smiling faces at this year's #INBOUND19 for evidence of a good time.)
Plus, I head home feeling more inspired than when I showed up—armed with big ideas and a renewed sense of motivation and purpose. What work activity is more meaningful than that?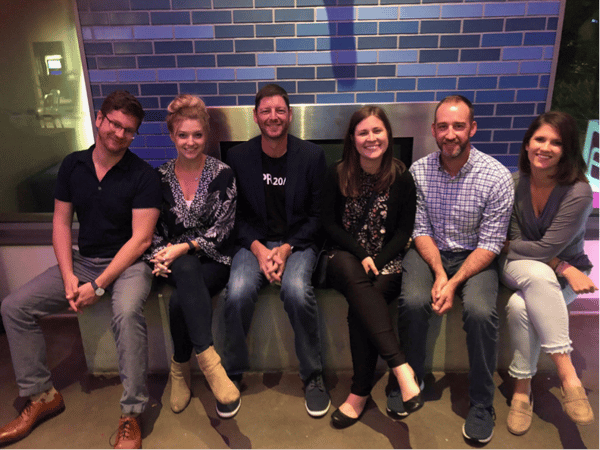 So as we plan for 2020, we take stock of the events we'd like to attend. To share the knowledge wealth, below is my list of the 20 coolest marketing events in 2020 (coming to a venue somewhere in the U.S.). Depending on what skills you'd like to hone in on the coming year, we've included events spanning various focus areas.
Disclaimer: Some of our favorite events have yet to release their dates for 2020. We will update this post as that information is released!
March 1 - 3, 2020 | San Diego, CA

"Discover the best social media marketing techniques from the world's top experts."
Social Media Marketing World brings together the top experts from platforms that you're trying to master. The lineup for 2020 includes speakers from Facebook, Youtube, Instagram, LinkedIn, and a number of well-known social gurus.
Plus, our very own founder and CEO, Paul Roetzer (@paulroetzer), will be speaking. Stop by his session and say hello! (He loves to talk about marketing AI.)
March 13 - 22, 2020 | Austin, TX
"SXSW is one of the most effective channels for promoting your business to professionals ..."
The South by Southwest Conference & Festivals "celebrate the convergence of the interactive, film, and music industries." Topically, this event covers a lot of ground. Marketers will likely gravitate toward tracks including:
Advertising and brand experience.
Experiential storytelling.
Media and journalism.
Professional development.
Tech industry.
Enterprise and workplace.
Check out a few of the featured speakers already lined up here.
March 31 - April 2, 2020 | San Diego, CA
"The premier gathering of digital marketers on planet Earth!"
Traffic & Conversion Summit 2020 will feature seven tracks including: big ideas, agencies only, digital retailers, digital advertisers, content marketers, conversational marketers and growth hackers. If you're a marketer, surely you thought 'yes, please' to at least two of those categories. Plus, we like that all materials presented at this one are "tested, proven tactics" to take home with you.
Get a preview of what to expect and check out Roetzer's Traffic & Conversion Summit talk from 2018, "Marketing in the Machine Age: The Path to a More (Artificially) Intelligent Future," on Youtube.
April 5 - 7, 2020 | Hartford, CT
"The only conference where marketers, sales and leadership teams get aligned on digital and ignite true business transformation."
Brought to you by IMPACT, Digital Sales & Marketing World will differentiate through role- and industry- specific summits. On day one, you can attend a deep-dive summit based on your role, and on day two, you can attend a summit based on your industry.
Side note: You might remember this event as IMPACT Live. It has been reborn for 2020 with some "major enhancements to provide you with deeper, highly-specialized, and more advanced education that's role and industry-specific, and tailored just for you."
April 15 - 17, 2020 | San Jose, CA
"You'll leave with best practices and relevant case studies from real-world marketers thriving at the intersection of marketing, technology, and management."
Programmed by Scott Brinker (you probably know him from his blog ChiefMartec.com), the MarTech Conference takes a graduate-level look at marketing, technology and management topics. If you're a senior-level marketer and you're having trouble selecting or maximizing use of your technology, then we'd recommend attending this one.
April 20 - 22, 2020 | San Diego, CA
"Come to the ContentTECH Summit to learn how new technologies and innovative processes are fundamentally changing what our work will look like in the next two to five years."
This is a good fit if you're looking to master content technology and strategy in 2020. Tracks include content strategy, core content concepts, future of content, and content management and measurement. Keynote speakers from 2019 included the likes of actor Henry Rollins and Content Marketing Institute's Robert Rose.
May 3 - 6, 2020 | Austin, TX
"SiriusDecisions Summit is the must attend event for sales, marketing and product innovators and trendsetters that drive growth in the most well-respected, high-performing companies in the world today."
The 2020 theme for the summit is "TOGETHER: Achieving High Performance by Aligning the B-to-B Revenue Engine." SiriusDecisions is collaborating with Forrester analysts to research and uncover what B2B marketing trends to expect over the next five years. You can expect tracks and role-based agendas on customer engagement, account-based marketing, brand and communications, sales enablement, among others.
May 4 - 7, 2020 | San Francisco, CA
"IBM Think 2020 is your best opportunity to work directly with technical experts, build essential skills and network with industry leaders from around the world."
IBM's Think is a great place to get clued into the latest advances in AI, cloud, security and IT infrastructure. Speakers from THINK 2019 included Ginni Rometty, Chairman, President and CEO of IBM; Joe Montana, legendary NFL quarterback; Tony Hawk, legendary skateboarder and entrepreneur; and Tiffany Pham, Founder and CEO of Mogul, to name a few.
May 18 - 20, 2020 | Chicago, IL
"There's no better way to improve your agency (and its bottom line) than to come together and learn together!"
Brought to you by the Agency Management Institute, this is the premier event for Build a Better Agency Summit (and we'll be there!). This event is created for leaders or owners in small to mid-sized agencies. Sound like you? Because it's so targeted, you will hear from "speakers who address exactly what matters most to your agency." You can view the full agenda here (and don't miss Roetzer's talk on May 19!).
June 17 - 18, 2020 | Chicago, IL
"Hear from some of the most audacious and thought provoking speakers in the digital marketing industry."
This event is focused on "building traffic, expanding brand awareness, improving customer service and gaining insight into today's latest digital tools." Session topics include digital strategy, web experience management, mobile marketing and retargeting, user acquisition, and more.
Read DigiMarCon's Top 10 Reasons to Attend to decide if this is a conference for you.
June 17 - 18, 2020 | Santa Monica, CA
"Social Media Week Los Angeles brings together marketing, media and technology professionals from more than 50 countries with a curiosity and passion for new ideas, innovations and emerging trends in social media."
Social Media Week typically attracts around 1,500 attendees, more than 200 speakers and hosts more than 60 sessions. The event covers various topics surrounding social media use like driving conversations, paid media models, social content, future of publishing and more. See the agenda for a closer look.
July 6 - 18, 2020 | Seattle, WA
"You'll connect with an incredible community of experts and uncover tactical advice from industry-leading practitioners in the vast world of SEO, mobile, conversion optimization, local search, and more."
Feel like you're drowning in a sea of search results? Well, MozCon is here for that.
MozCon is geared for SEOs (i.e. practitioners of SEO), agencies, content marketers, marketers of all stripes and marketing executives. As you'll see from the 2019 agenda, this one goes deep on SEO, diving into topics like link building and local ranking opportunities.
July 14 - 16, 2020 | Cleveland, OH
"MAICON is designed to help marketing leaders truly understand AI, educate their teams, garner executive support, pilot priority AI uses cases, and develop a near-term strategy for successfully scaling AI."
Powered by PR 20/20 (that's us!), MAICON 2019 had more than 40 sessions designed to help marketing leaders understand, pilot and scale AI. The international event featured speakers from Albert, Conversica, Facebook, Grant Thornton, HubSpot, IBM, MIT Technology Review, Publicis Sapient, SoftBank Robotics, The Natori Company, Yext and many more.
MAICON is built on the idea that every piece of software marketers use today—ad buying, analytics, automation, content strategy, conversation, email, search, social—can be made more intelligent using AI and machine learning. Year two promises expanded programming with more sessions and speakers, a collection of case studies from marketers who have piloted AI in their companies, and an ever-growing community of marketing leaders seeking to drive change in their organizations.
2020 TBA (September 3 - 6, 2019 | Boston, MA)
"These four September days are for you—the product manager, the creative marketer, the start-up founder. Those who want more than the cookie cutter learning and development noise and who yearn for an explosion of positive energy, sharing, and clear, empowered ways to move forward at work."
Hosted by HubSpot, INBOUND is one of PR 20/20's personal favorites. (We might be biased as a HubSpot partner, but regardless, we always come away with great ideas and even better memories.)
Since being established in 2012, INBOUND has expanded to roughly 24,000 attendees making it "one of the fastest-growing business events in the world." Whatever your marketing role, you can find sessions that inspire and educate—with tracks ranging from advertising, alignment, analytics, artificial intelligence, authenticity, branding, content marketing, email (you get the idea) and so on.
In case you missed #INBOUND19, check out the recap on our blog.
2020 TBA (September 23 - 26, 2019 | New York, NY)
"Advertising Week is a worldwide gathering of marketing, advertising, technology and brand professionals."
While advertising is obviously the main focus here, the conference tracks are wide ranging making it suitable for professionals in marketing, media, technology and design, too. Past speakers have included Sheryl Sandberg, COO of Facebook; Al Gore, Former Vice President; Arianna Huffington, Founder and CEO of Thrive Global; Malcolm Gladwell, author, among many other names you've probably heard before.
2020 TBA (October 2 - 4, 2019 | San Francisco)
"Disrupt is where the startup world gathers to see the present and the future of tech in one place."
Hosted by TechCrunch, Disrupt SF is geared towards startups and innovators in the tech space. Programming includes interactive workshops, session tracks ranging from artificial intelligence to space, networking and more. If you're in tech, this is the place to "make the right connections easily to propel your business forward."
October 13 - 16, 2020 | Cleveland, OH
"Content Marketing World is the one event where you can learn and network with the best and the brightest in the content marketing industry."
Another can't miss event if you're in the business of content marketing—not to mention it's hosted in the great city of Cleveland (yes, possibly biased because this is our home base).
All biases aside, Content Marketing World digs deep on complex topics related to content marketing—including demand generation, email and conversion, tools and technology, social media, teams and culture, customer experience and much, much more. Check out the 2019 agenda for a preview of what you're in for.
2020 TBA (October 29 - 30, 2019 | New York, NY)
"Discover what makes ONWARD19: The Future of Search a one-of-a-kind conference experience."
Onward zeros in on the "where search is headed." Keynote speakers for the 2019 event include Seth Myers, host of Late Night with Seth Myers and Seth Godin, bestselling author, among many other top speakers. Check out this year's agenda for more insight into what to expect for 2020.
2020 TBA (October 16 - 18, 2019 | Washington DC)
"It's a place where leaders, innovators, and people who make things happen gather to learn about the latest in B2B marketing and share the secrets to success."
Connect with other B2B marketers, and hear from top marketing gurus. The 2019 event, held October 16 - 18, will feature Jay Baer (@jaybaer) and Ann Handley (@marketingprofs). Other top 2019 speakers include Kara Swisher (@karaswisher), Executive Editor at Recode and Need James (@neenjames), author of nine books—if you're looking to top off the year with some B2B education.
2020 TBA (November 19 - 22, 2019 | San Francisco, CA)
"Dreamforce has grown into so much more than a conference — it's an experience like no other. From inspiring keynotes and sessions to visionary thinking to discovering the future of technology to actually changing the world, it's a truly empowering four days and an event you won't want to miss."
On the sales side (and if you're part of the Salesforce community), this event offers 2,700+ sessions across four days. This year's event is already sold out (November 19 - 22, 2019), but that doesn't mean you can't start planning for next year.
Mark Your Calendar: MAICON 2020
Did you hear the news? We're already looking forward to MAICON 2020. Join us again next year in Cleveland, July 14-16, 2020. Year two promises expanded programming with more sessions and speakers, a collection of case studies from marketers who have piloted AI in their companies, and an ever-growing community of marketing leaders seeking to drive change in their organizations.

Sandie Young
Sandie Young started at the agency during the summer of 2012, with experience in magazine journalism and a passion for content marketing. Sandie is a graduate of Ohio University, with a Bachelor of Science from the E.W. Scripps School of Journalism. Full bio.