Why? Because you ignored the headline. Maybe you ran out of time and wrote the first thing that came to mind. Or, you kicked a few ideas around and picked the best one.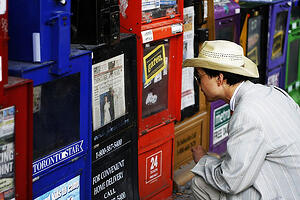 It doesn't matter, right? You spent a hundred dollars of your time to craft a perfect post—people will forgive you a less-than-stellar headline.
Dead wrong. Without a headline that converts skimmers into first-paragraph readers, you should have lit that hundred dollars on fire. It would provide more entertainment value than a post no one reads.
The lifespan of a content piece in the attention economy is nasty, brutish and short.
Website visitors skim; they rarely read. When they do, they don't finish. In either case, they click away—and take their attention and dollars with them.
That makes your headline the first, and most important, step on the path to conversion. And make no mistake: content's goal is to convert, whether you want a reader to keep reading, take action, click to learn more or submit a form.
And to convert, you must earn and keep attention. Each paragraph, subhead, callout or other component is one more opportunity to lose that attention and, thus, next conversion.
So, how do you win attention in the face of overwhelming choice and noise? You write headlines like the heavyweights. Marketers must learn from the media properties doing it right. After all, you don't compete with other marketers for attention. You compete with the entire internet. Why not learn from those who consistently earn and keep attention?
We chose three successful headline writers. We then broke down what they do, how they do it, and why it works. Read on to learn from them.
There's One Trick to Writing Great Headlines, And You Won't Believe What It Is
Sound familiar? It's a headline torn from the style guide of Upworthy (@upworthy), the fastest-growing media property of all time. Love them or hate them, headlines directly correlate with Upworthy's growth.
Here's just a taste:
Why do these headlines work so well, so consistently? It's called the "curiosity gap." As The Atlantic's Derek Thompson says:
"The idea is both to share just enough that readers know what they're clicking and to withhold just enough to compel the click."
Upworthy headlines play our innate human curiosity like a fiddle. And it works.
You can do it, too. Tease the value to take out most of the guesswork, but leave them guessing just enough to earn the click.
11 Surefire Ways to Get Site Visitors to Read Your Post
Buzzfeed (@buzzfeed) combines overwhelming value with unbridled hype to seize your attention.
They're doing something right. Late 2013 saw their highest traffic numbers to date—with 130 million unique visitors.
Here are a few examples of what makes BuzzFeed so buzzworthy:
Your attention is earned because, in exchange for a few precious seconds, you receive immense value. You won't just get a couple of food facts; you get 12. Don't like the first ten photo backdrops? There are 22 more.
To sweeten the honeypot, hyperbole is deployed like a smart bomb.
These aren't just inexpensive photo backdrops. They're incredibly cheap.
These messes aren't just cute. They're the cutest messes in the long and storied history of mess-making.
Can you inject the same heady mix of value and hyperbole into your content?
Expert marketers think so: Copyblogger (@copyblogger) shows you how in this post.
How to Write Specific, Detailed and Value-Driven Headlines
Curiosity and hyperbole aren't the only things that grab eyeballs. Lifehacker excels at writing headlines that tell you exactly what you get, and then gives it to you.
Check out the following examples:
These are the most literal headlines ever written. And they deliver the value they say they will.
Simple as that.
With all the tricks and tactics out there, we forget that value creation usually wins out.
Don't dress it up. Don't wrap it up with a bow. Describe the value your content delivers. Then, deliver it.
There may be a science to writing headlines. But it doesn't have to be rocket science.
What tactics do you find most effective for writing headlines? How did a change in headline impact readership or sharing? Please let us know in the comments below. (We'd love to hear some before and after numbers if you have them.)