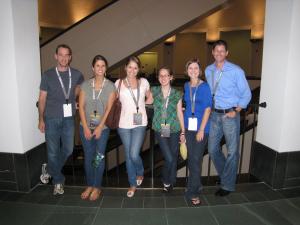 Next week, five members of the PR 20/20 team will travel to Boston for Inbound 2013, HubSpot's annual marketing conference and the world's largest gathering of inbound marketers.
PR 20/20 to Share Marketing Score Insights and Hiring Strategy Tips
On Tuesday, Aug. 20, Paul Roetzer (@paulroetzer), CEO of PR 20/20 and author of The Marketing Agency Blueprint, will present "Filling the Gap: What Marketers Really Need from Agencies." Based on original research from PR 20/20's proprietary, beta assessment tool, Marketing Score (www.TheMarketingScore.com), this presentation will delve into data collected from more than 300 assessments submitted by marketing professionals who subjectively rated their organizations' marketing programs.
Not familiar with Marketing Score? The 10-part assessment tool enables respondents to rate more than 130 factors across core areas of marketing and sales performance, lead sources, marketing team competencies, technology utilization, social media, content and public relations.
Data highlights within the presentation will:
Provide insight into marketer goals, budgets and expectations.
Aid in the development of agency services that fill gaps in client strategy, technology, talent and execution.
Arm agencies with information that can help evolve their own marketing, sales and brand.
Sign up to complete the Marketing Score assessment for your organization.
In addition, Roetzer will also participate on a panel entitled, "How to Hire the Inbound Marketers Your Agency Needs to Grow" on Wednesday, Aug. 21 at noon.
Finding and acquiring top talent is essential to the hiring strategy of any organization. This is especially true for inbound marketing, which requires professionals to have an in-depth knowledge of all online marketing activities—brand building, content, email, pay-per-click, search, social, media and public relations, web, etc.—as well as the ability to strategically design and execute integrated campaigns.
Finding driven, hybrid candidates, however, can be challenging.
The panel will explain what characteristics, experience and skills to look for in your next hire, as well as key staffing timelines you should target based on your growth strategy.
Other panelists include:
Leslie Mitchell (@recruiterlesmit), recruiting manager at HubSpot
Bob Dearsley (@dearbob), chief executive at ITPR & The B2B Marketing Lab
What's in Store for Inbound 2013 Attendees
The four-day conference will feature six keynotes, countless other speakers and educational tracks, and the opportunity to network with an incredible community of likeminded professionals—inbound marketers. For more details, see the full Inbound 2013 agenda.
A breakdown of the keynote lineup:
Want more information? Learn about Inbound here: http://www.inbound.com/.
Follow the PR 20/20 Team at Inbound
Interested in live updates from our team? Follow us on social networks for status updates, presentation notes, pictures and more.
PR 20/20 Social Accounts:
PR 20/20 Attendees: