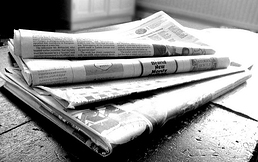 Top marketing news, articles and tips from the third week of July 2012.
Content Strategy
Content marketers can benefit from regularly performing audits on different processes to identify weakness, and opportunities that may slip through the cracks in day-to-day operations. With some external help, Joe Pulizzi (@juntajoe) and the team at Content Marketing Institute did a deep dive into their own, and have shared five tactics identified that may help i
Review, edit and repurpose print content for the web.
Determine best converting content by marking the CTA goal upfront, and tracking each piece.
Create lasting and uncommon content to help distinguish it from the infinite rest.
Visual storytelling is taking over these days, and it's easy to see why—pictures can be quicker and much easier to share and digest than paragraphs of text. Mars Dorian (@marsdorian) argues that we shouldn't dismiss this as just a fad, and offers a handful of tips to make visual marketing work, including:
Use content-related images that capture your whole idea.
Visualize your brand with real, well-shot photos of your team.
Display stats with infographics (but only if they aren't crappy).
Create beautiful shots of your products.
Be short and concise with your writing to make copy visually appealing.
Include striking imagery in slideshows.
Once you've nailed creating epic content with great visuals, figure out where you can leverage the content to build links. Adria Saracino (@adriasaracino) admits that she's executed some link building strategies that have flopped, but turned her mistakes into a checklist to help make your link building successful.
Social Media Monitoring & Management
In today's social world, all businesses should be concerned about the conversations going on about them. Brands are in the hands of consumers, and if you're not listening, you're in trouble. For Shell Oil, a fake ad contest gallery called Arctic Ready in conjunction with an active Twitter account to promote it somehow fell through the cracks, resulting in serious consumer backlash.
Reminders like these highlight the importance of a solid crisis communications plan. Note these takeaways to help avoid, or at least identify and manage, something like this if it happens to you.
In addition, two other companies faced uproar in the social media world this week after sending out poorly timed and ill-advised tweets following the Dark Knight shooting in Aurora. One company intensified this "epic insensitivity" by blaming the action on an overseas PR company, making it clear that social media pros must have a pulse on current news, trends and social context.
Mayer Mayhem
Ex-Google exec Marissa Mayer is breaking ground in more than one sense: not only did she leave Google to run search competitor Yahoo!, but she's also the first-ever pregnant CEO of a Fortune 500 company.
Many are asking, "What can she bring to the table?" With her background in product development at Google, we can look to her past accomplishments for a glimpse into Yahoo!'s future.
Company News
Survey Says
What articles made your top list last week? We'd like to hear your opinions.
Stay updated: Subscribe to the PR 20/20 blog, check us out on Facebook or follow the team on Twitter.