Why do some posts catch on and go viral, while others fall completely flat?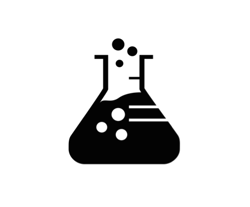 There are already a number of studies and theories out there on writing the perfect blog post. But—if no one feels inclined to click on your post—your subheads, word count, images and creative hook don't stand a chance.
From Twitter feeds, Facebook networks to the daily inbox … readers are bombarded with content. Every audience needs a custom content marketing plan, tailored to pain points, interests and needs. Even then, only the most entertaining, useful and intriguing headlines win a click.
So naturally, I decided to do a bit of investigating on the PR 20/20 blog to determine the agency's perfect formula for headlines. You could dedicate a team of blogging scientists to analyzing heaps of data. But, if you're looking for something straightforward yet strategic—and most of all, actionable—below are three simple steps to reinvent your approach in less than 30 minutes.
An Investigative Approach: 3 Steps
Making the process scientific yet simple, I took a three-step approach to drafting the ideal headline equation.
Pull the most shared posts via all social networks. I started by pulling the top 65 posts over the past 12 months for PR 20/20 using our Buzzsumo account. The list includes top shared posts, as well as the breakdown by social network (i.e. Facebook, Twitter LinkedIn, Pinterest, Google+).

Compile a list of the most-viewed posts on your blog

. Next, I switched over to Google Analytics and pulled a list of the most-viewed posts during the same timeframe as was available for social shares (the past year). I would recommend retroactively pulling as much data as possible to draw the most accurate conclusions.

Analyze

. Compare the lists side-by-side, and determine similarities. What proves most clickable on social and via search?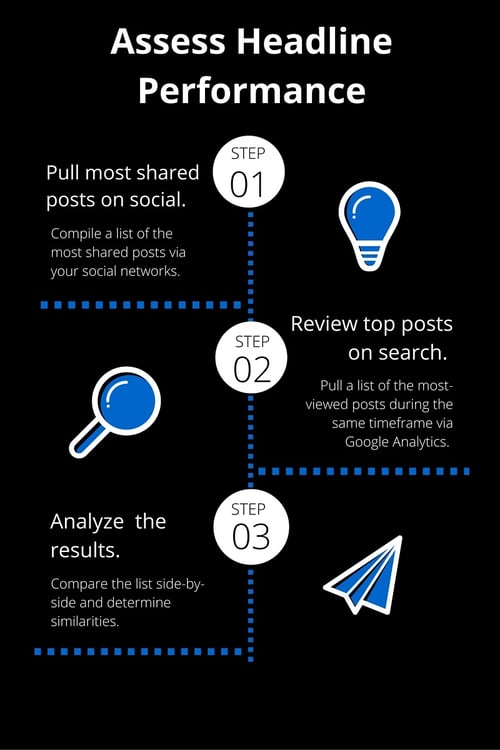 Below is the high-level version of my experimental results, including our top posts.
Top 10 Most-Shared Posts on Social Media
As noted, I used Buzzsumo to pull the most shared posts on the PR 20/20 blog over the past year. Social channels monitored include Twitter, Facebook, LinkedIn, Pinterest and Google+. The top 10 included:
Top 10 Performing Posts on Search
Tapping into Google Analytics, below are the top 10 PR 20/20 posts over the past year by pageviews.
We focused on pageviews, and not bounce rate, because this experiment was specific to the click. When doing a more thorough analysis of your blogging strategy, it's important to analyze bounce rate and time on page to better understand what content keeps the attention of your readers.
Characteristics of Click-Happy Headlines
Diving into both lists, I was able to decipher a few commonalities and distinctions.
Interestingly, only the following two posts appeared on both lists.
The common factor here: Paul Roetzer (@paulroetzer).
It's obvious that your content's lifespan will be much longer (and much richer) if written and promoted by an influencer. Influencers have already built a network of hungry readers, and years of credible work in the rearview.
Even if you're not an influencer, you can still write home-run posts with the right approach.
To publish an out-of-the-park post, you've got to succeed in both social and organic search. And, after analyzing 100 million posts, the founder of AppSummo (@noahkagan), proved that infographics and list posts (among other key ingredients) are more sharable. Our results follow the same trend; 50% of our top 10 most-shared posts feature lists.
When it comes to pageviews, however, our most tactical, business-savvy posts tend to perform best (i.e. Marketing Strategy v. Sales Strategy). Also significant, nine out of the 10 top performing posts in search explain how to do something. Five of those 10 include the word "How" right in the headline.
Bringing it full circle, below is a suggested formula for maximum eyeballs.
List + How To x Influencers = Home Run
Example: How To Write the Perfect Pitch in 5 Easy Steps

And, to multiply and finish the equation, it's helpful if an industry influencer will promote your post on social, or even provide commentary. Tapping into outside networks never hurt your pageviews before, right?
Hint: Experiment with CoSchedule's Headline Analyzer to see how you might improve your current headline.
For a more complex approach, check out a few resources we love.
Put your detective hat on and create the perfect headline formula for your own blog. Feel free to reach out to me with your results, or comment below.


Sandie Young
Sandie Young started at the agency during the summer of 2012, with experience in magazine journalism and a passion for content marketing. Sandie is a graduate of Ohio University, with a Bachelor of Science from the E.W. Scripps School of Journalism. Full bio.