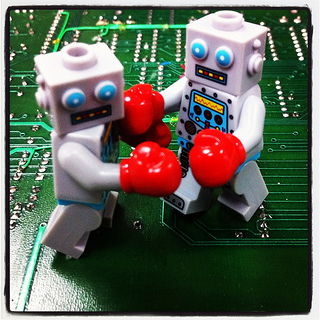 "I, for one, welcome our robot overlords."
Ken Jennings wrote that as he lost the quiz game Jeopardy to Watson, IBM's super-intelligent computer. Jennings was the show's most winning contestant, but was bested by the company's collection of computing power and artificial intelligence.
Just because the machines got the best of Ken doesn't mean marketers can't coexist with them. And for marketers, that means marketing automation.
How Marketing Automation Improves Lead Acquisition and Nurturing
Ready North founder Paul Roetzer (@paulroetzer) describes it best in his post on the subject over at Content Marketing Institute:
"Generally speaking, marketing automation takes traditionally manual tasks and, well, automates them. Activities such as contact management, list segmentation, lead scoring and nurturing, A/B testing of website pages and offers, email marketing, and performance measurement and reporting can all be done more efficiently through automation."
Its benefits are profound. Ready North's 2014 Marketing Score Report found that marketing automation high performers have:
1.6x higher lead-to-sale conversion rates than the report's other surveyed respondents.
1.4x stronger cost of customer acquisition (COCA).
1.5x higher overall Marketing Score, a rating of marketing and business core strength based on 132 factors.
Notice that a lot of those stats have to do with all-important leads. Lead nurturing is a big way marketers can leverage marketing automation technology.
So, how do you get started? We've got you covered with several ways to use automated touch-points to improve your lead nurturing. Read on.
Generate Awareness and Build Brand Through Automation
Marketing automation can be deployed as early in the customer journey as the first touch, nurturing prospects to become leads.
With marketing automation, you're able to create contextual content that presents tailored messaging to first-time visitors and distinct buyer personas. Content can also be automatically emailed to blog subscribers as a way to deepen the relationship and encourage a conversion.
Get Started With These Resources
Automatically Score Leads
Automated lead scoring is a powerful ally in your marketing efforts. By setting up custom rules in your platform, you'll be able to automatically score leads as they fill out forms on your website.
Combined with refreshing "smart" lists and reports, you'll have a complete picture of the leads in your system—which is the first step to better nurturing. Even better, introduce progressive profiling to gather new information each time your lead fills out a form on your site.
Workflows can also be leveraged to trigger certain activities that move leads from one lifecycle stage to the next. Some marketing automation platforms may also take the liberty of assigning a buyer persona to each lead as it enters the system, based on criteria you set.
Get Started With These Resources
Nurture Leads Through the Customer Journey
Let no one convince you that email is dead. In fact, email marketing is alive and well and begging to be automated.
By creating lead nurturing emails that target leads based on lifecycle stage and / or site behavior, you create a powerful nurturing machine that—with robust lead scoring—ushers prospects through the sales cycle.
Email communications can be automated along every stage of the cycle, from subscribers and leads to marketing qualified leads and sales qualified leads. At each stage, effective automated nurturing delivers relevant, useful information to help interested prospects take action and qualify themselves further.
Get Started With These Resources
Are you using marketing automation software to create more touchpoints with your leads? If so, how? Let us know in the comments!