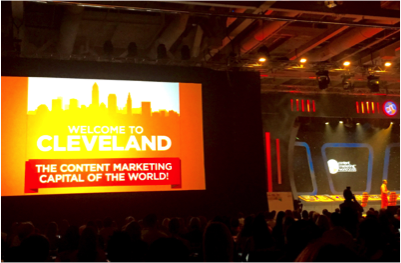 Content Marketing World or as others may know it, #CMWorld, is an incredible event for marketers, journalists and techies from across the globe to gather and share niche content knowledge. As the largest content marketing event around, the opportunities to learn trade tricks, network with leading influencers and fuel creativity are endless.
This year, the PR 20/20 team sent four employees, including myself, to the local conference to mingle with the best and brightest in content marketing. From September 6 – 9, we attended roughly 35 sessions total, including our CEO, Paul Roetzer's session, alongside more than 4,000 pros.
Did you miss the event this year? Not to worry. Our PR 20/20 attendees including director of marketing, Taylor Radey (‪@TaylorLauren‪), consultant, Megan Wolk (‪@megan_wolk‪), associate consultant, Shannen Laur (‪@slaur9‪) and myself (@AllisonKurz) recapped a few of our favorite sessions (and actionable takeaways) below. And if you were there, tell us about your top sessions and speakers in the comments!
1. How to Use Content to Maximize the B2B Buying Process
In a world where content and resources are literally at our fingertips, you'd think it would be simple to push content and leverage it for the B2B buying process, right? Unfortunately this isn't always the case.
According to Ardath Albee (@ardath421), B2B marketing strategist and CEO of Marketing Interactions, Inc, even though we have 35% more content, we are receiving 17% less engagement.
So how can this problem be fixed? We have to get people to take action, and break through the immense volume of content.
Content marketers need to focus more on leveraging three key tactics to get the right content into the hands of the right people: personas, amplification and responsiveness.
In addition to these three tools, B2B marketers must begin to better evaluate content ideas. Ask yourself questions, such as:
Is this topic where it matters to the target audience?
Do we have a differentiated point of view?
Will our point of view be able to produce "x" number of responses?
Will we be able to amplify the content by doing "x" to achieve our intended goals?
Will we be prepared to respond to our audience in these ways?
All in all, content marketers need to not only publish content, but also think about how they can make it easily accessible and more attractive to their intended audiences.
2. Long Form Content for the Win at REI
There's a time, place, and platform for every type of content. REI's SEO / Content Marketing Program Manager Eric Hess (@HessInSeattle) made that point by breaking down the differences between long and short-form content.
Short-form content works when:
Messages compete with short attention (social media).
Short interruptions let users get back to what they're doing (paid content).
Audiences are on the go (mobile).
But short-form content has its limitations. There's only so much a brand can convey in 400 words or a 30 second video, and it can be challenging to create meaningful engagement.
Long form content—1,500+ words or 3+ minute videos—works because when we're looking for help, we want depth.
The bottom line: different audiences want (and need) different content.
Need some inspiration? Check out REI's blog for short and long stories about a life outdoors. From trail running through Vermont's Green Mountains to s'mores hacks, there's something for everyone.
As PR 20/20's Megan Wolk (@megan_wolk) says, "Our goal as content marketers should be to understand and give our audiences the content they need, when they need it."
3. 'COPE' with Hungry Content Channels: What the 'Create Once, Publish Everywhere' Approach is and How It Maximize Everything You Create
When creating content, marketers know the importance of understanding the audience and which channels are most effective. So instead of focusing solely on creation, widen your readership and give due diligence to content distribution.
That's the mindset of Stephanie Reid-Simmons (@betterlater), Zillow's director of content marketing. Reid's session focused on the idea of COPE: create once, publish everywhere.
COPE-worthy content can be expressed through blogs, video, email, social, bylined articles and more. However, before you COPE your content, be sure it's worthy of publishing on multiple channels. Ask yourself if your content can:
Power multiple campaigns.
Support multiple content channels.
Be made custom to the channel (remember: COPE isn't just a copy and paste effort).
As PR 20/20's Shannen Laur (@slaur9) puts it, "We put so much time and effort into content creation, so let's focus more on expanding our reach to new audiences and platforms."
4. The 7 Keys to Owning the Digital Age and Dominating Your Niche: Today, Tomorrow, and Beyond
In 2008, Marcus Sheridan (@TheSalesLion) was a pool guy. But he wasn't in the business of selling pools. We're all, Sheridan argued in his CMWorld session, in the business of selling one, universal thing: trust.
Fast forward to today, when 70% of the buying decision is made prior to contacting sales. In order to earn, and keep, consumer trust, it's imperative for businesses to adapt their thinking, break down silos, and get out of their comfort zones. A few nuggets of Sheridan wisdom:
Platforms come and go. Channel-first thinking distracts businesses from their number one goal: providing value. Most of them will be irrelevant in 20 years; prioritize principles over platforms.
Your customers don't care if you don't like Facebook. Or if you're not comfortable on camera. Or whatever else is holding you back. Meet your customers where they are, and fully commit to digital marketing.
Change must come from the top down. Leadership must be bought in, and marketing and sales working in tandem, for content marketing to succeed. Marketing cannot operate in a vacuum and expect exceptional results.
In short, the businesses best positioned to succeed in the future are united by a customer-first culture that puts value creation over technologies, layers of bureaucracy and content marketing "programs."
"In this growth-hacking, KPI-chasing, click bait-crazed era of digital marketing, his session was a powerful reminder of a core tenet of marketing and sales: Do you solve your prospect's problems better than anyone else?" notes Taylor Radey (@taylorlauren).
Did you attend Content Marketing World this year? If so, share with us your favorite sessions takeaways!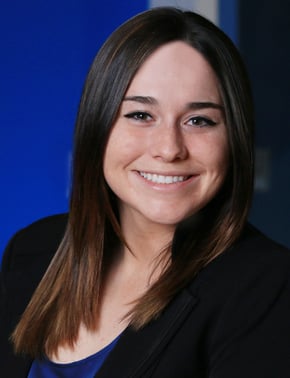 Allison Melnik
Allison Melnik is a consultant at PR 20/20. She is a 2014 graduate of Kent State University with a concentration in organizational communications and public relations. Full bio.