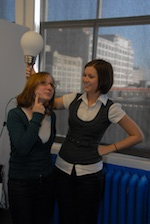 My father watches the Weather Channel religiously. The kind of devotion others have for television mega-hits like Game of Thrones or Homeland, Dad reserves for five-day forecasts and winter weather alerts.
Why?
I mean, it's not like he's a commodities trader.
Wait, what?
Oh, I forgot to mention: what looks like one man's weird obsession can actually help you make a fortune trading the goods that make the world go round.
Eduardo Saverin (of Facebook co-founding fame) earned $300,000 in a summer betting on oil futures after accurately predicting the weather.
Soup company Campbell's has a "misery index" that ties radio ad buys to bad weather in regional markets.
Planalytics, a Business Weather Intelligence firm, uses weather prediction models to help clients like Coca-Cola tailor their distribution across geographic markets with varying temperature patterns.
Suddenly, my old man doesn't seem all that crazy.
In short, it pays to be curious about the connections between human beings and their environments.
And that's a skill content marketers need to stay ahead of the information flood.
That flood is particularly insidious. As my colleague Laurel Miltner (@laurelmackenzie) points out, content is like food: it's easy to gorge on cheap junk, but the real magic is in the unique, carefully conceived and quality sourced meal.
Immersion Content Marketing
It's easy to get snowed under with the latest search engine news, marketing predictions and industry shop talk. Trust us, we're fond of it.
But don't lose sight of the things that matter most—and would be of interest—to your customers and prospects. Killer content is executed not just by following best industry practices, but by uncovering the stories, angles and connections everyone else missed.
In an interconnected world, those stories are hiding everywhere. The only way to reliably find them is by maintaining a ravenous appetite for information and an insatiable curiosity about the world at large.
In short, it's not your job as a content marketer to read marketing news, and that of your industry alone; it's your job to read every industry's news.
That's no small feat. Teasing out the best sources of information and making relevant connections takes a serious commitment to rigorous self-education.
It's not a talent acquired overnight.
That's part of the reason we believe those with newsroom experience can make great content marketers.
And it's the secret sauce to cooking up content that informs, delights and, above all, delivers value.
In the second chapter of his book, The Marketing Agency Blueprint, our CEO Paul Roetzer (@paulroetzer) details how agencies and marketing professionals must completely immerse themselves in new technology to thrive.
The point being that immersion is a powerful ally. It's an idea content marketers need to internalize.
Don't dabble. Dive in.
Here's a hint: if your RSS feed contains nothing but marketing wisdom or news about a single industry, your time and effectiveness are misallocated. Borrow advice from the playbooks of disciplined investors: diversify.
Go out and seek new information, sources, publications and areas of interest. Read the news. Ask questions about what you read. Google frequently. Bookmark often. Don't drop the interests you had before you became a content marketer, or landed your current job.
Cultivating a well-rounded perspective is one of the most effective ways to find the connections that make the content you produce that much more valuable.
At Campbell's, the person who revolutionized the company's practices wasn't the one who read about soup all day. It was the person who knew the buyer's deeper needs. The person who stepped into the buyer's world for a day.
If you're not fully engaged with the world at large—or the worlds your customers inhabit—why should customers engage with your content? If you don't know or care why your buyers' challenges matter most to them, why should they care about your solution?
Content Informed by Curiosity
Content marketing is built on utility and authenticity. Both come from immersion in your target customer's world—from reading the publications they read to understanding the issues they care about.
In a globalized society, you can't afford to not be interested in, well, everything. The opportunity to deliver value is everywhere.
It's in the weather forecast that earns $300,000.
It's in the winter storm that sells more soup.
It's in the heat wave that causes a whole country to guzzle Coke.
It's in the content that accurately and authentically solves customer problems—because you understand those problems, the world these problems live in, and their solutions, inside and out.
Because you've done the homework and you've asked the right questions.
Because you forced yourself to care.
It's not always easy to drum up that sort of excitement. Things like soup and soda just aren't very sexy. But therein lies your opportunity to dig deeper and make new connections that leave a lasting impression with audiences.
When you do, everything suddenly becomes a lot more interesting.
I've never found out why my dad watches the Weather Channel. He doesn't seem better prepared for snow storms or more liable than the next person to grab an umbrella on his way out the door.
But I do know that when he walks into a room full of people he doesn't know (yet), he's always ready with a conversation topic they care about.
Stay updated: Subscribe to the PR 20/20 blog, check us out on Facebook or follow the team on Twitter.