Low lead volume. Unqualified leads. Overworked sales reps,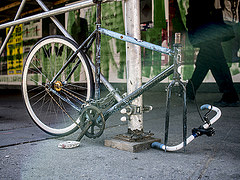 high cost of customer acquisition (COCA) and lackluster ROI.
Sound familiar?
Sounds like your organization needs lead scoring—stat.
Lead scoring is the process of applying values to lead activities and attributes, to better qualify marketing-generated leads for the sales team. It's an objective and automated system to identify sales-qualified leads (SQLs)—leads that are more likely to become customers based on demographic information, lead details, website activity and engagement.
It creates accountability for both marketing and sales, evaluates existing lead quality, and sets a benchmark for long-term measurement. On top of that, assigning scores to leads sets the stage for discussions like a service level agreement (SLA), prioritized lead outreach and contextual lead nurturing.
Lead scoring often requires the help of marketing automation technology such as HubSpot (@HubSpot), Eloqua (@Eloqua), or Marketo (@Marketo).
Already have one? Great. But hang on a minute. Before diving headlong into a lead scoring discussion, here are actionable steps you must take to align technology and resources for lead scoring success.
Align Lead Score Technology
Too many CMOs want to compete in the Tour de France, but their bicycle is missing half its pieces. To be successful, marketing teams must align resources and technology with their goals. Just like you can't ride a bike without a front wheel and handlebars, you need the proper foundation and tools to make a lead scoring system viable.
The requirements:
Customer relationship management (CRM) software to organize lead and customer data. Ideally this will integrate with marketing automation technology so the two systems can work together. (For example, to alert sales of new SQLs, and alert marketing when that SQL closes.)
A marketing automation solution that can house contact data, track website interactions, and execute customized lead scoring rules.
A flexible CMS that can be modified by marketing without IT intervention. It should allow for creating and editing content, landing pages and web forms.
Quality content that guides site visitors through the buying process.
Collect Explicit Values
There are two primary types of data that can be collected about a lead. The first, explicit values, includes factors expressly told to you by the lead (e.g., location, company size, budget, etc.). To quantify explicit values, your marketing technology mix must be set up to capture lead data.
Add landing pages.
As HubSpot says, "all landing pages are web pages, but not all web pages are landing pages." So what's the difference?
A landing page exists solely for the purpose of capturing lead information. Good landing pages are no-nonsense: They minimize distractions, use concise and compelling copy, and include a call to action and web form.
And, of course, they're centered around a valuable offer—whether a piece of content, an opportunity to schedule a product demo, or a service quote—that gives the visitor reason to give up some of their personal information. Kissmetrics (@Kissmetrics) has a great breakdown of the anatomy of a perfect landing page.
If you don't have landing pages on your existing site, create some. If you do, evaluate their performance, optimize them, and add more. Landing pages that perform well are critical to converting site visitors into leads, and further qualifying leads over time.
Optimize web forms.
All landing pages should have forms, but you might also have other forms throughout your site—on your homepage, product pages, contact pages or request quote pages. No matter where they live, form fields must be optimized to support your lead scoring strategy.
In other words—as that computer simulation told Will Smith in I, Robot—to get the right answers, you must ask the right questions. Modify form questions or fields to satisfy required lead scoring criteria. Use closed-ended questions (i.e., dropdown, radio button, checkbox) to limit responses to those within your scoring parameters, and use conversational language to help visitors self-identify (e.g., "Interested in Quote" not "Sales Qualified Lead").
Remember: Don't overwhelm leads with lengthy forms. Focus on capturing critical information to avoid a high bounce rate. The information gathered, compared to the value being provided, should always be an equal exchange of value.
Use progressive profiling.
If your technology solution allows, implement progressive profiling. Also known as "smart forms," this keeps the lead from entering the same information over and over, and enables you to ask new questions each time a lead completes a form. Prioritize scoring criteria so your most important questions are answered first, and thus by more leads.
Progressive profiling results in shorter web forms for your leads, and ongoing, automated lead qualification for you. Win-win.
Score Implicit Behaviors
The other side of lead scoring, implicit behaviors, evaluates the actions a lead takes, and therefore his or her perceived level of engagement and interest. For example, a lead who downloaded specific product information and watched a few related videos may be showing interest, and can be scored as a higher priority for sales follow-up.
Deploy tracking technology.
Implicit behaviors assume that visitors who visit, click, read, open and download are more engaged and interested in your product or service than those who don't. To gauge implied interest, you have to be able to track who is visiting, clicking, reading, opening and downloading.
Your marketing technology solution should also have the ability to pull in website interactions and email opens, and connect all of these experiences through users' IP address and cookies. Additional tracking technology, such as call tracking solutions, may also be integrated to track and score offline interactions.
You can use marketing automation to promote top content, such as a must-read ebook or new case study. Conversely, you can also audit the activities of your most valuable customers to better understand the content topics and formats that appeal to your ideal customer profile (ICP).
Map content to the buying process.
Arguably at the center of (or perhaps underlying) these steps is high quality, buyer persona-focused content. It's often content—in the form of a white paper, ebook or product demo presentation—that compels visitors to give you their information. And it's what keeps them coming back for more.
To align content with lead scoring, map content to each stage of the buying process, and for each of your buyer personas. Include blog posts, premium content, product pages, customer testimonials, videos and demos. You can then assign higher point values to more mid- and bottom-funnel pieces of content, under the assumption that leads consuming this content are more sales-qualified.
This exercise will also help you identify absent or weak areas, and identify future premium content that can be gated behind landing pages and used to capture more leads.
Test and Learn
Once you have the foundations in place, you're ready to initiate a lead scoring conversation with sales, define scoring criteria, implement the logic and develop a process for lead handoff to sales. Ongoing maintenance of lead scoring includes:
Building out additional gated content assets.
Testing and optimizing landing pages, calls to action, web forms and events.
Updating scoring rules to accommodate new content or forms.
Adjusting the threshold for a sales-qualified lead score as needed.
For more information on lead scoring and next steps, check out these resources:
Have you implemented lead scoring at your organization? How? I'd love to hear about your successes and lessons learned along the way.
Image Source: jseliger2 via Flickr
Taylor Radey
Taylor Radey is the director of marketing and a senior consultant at PR 20/20. She joined the agency in April 2013 with a background in digital and content marketing. She is a 2009 graduate of the E.W. Scripps School of Journalism at Ohio University, where she received a Bachelor of Science in Journalism, with a focus in public relations. Full bio.