"While everyone else is debating this sh*t, I'm using it," entrepreneur and marketer Gary Vaynerchuk (@garyvee) told a crowd at New York Internet Week. He was talking about his success on newer social media platforms like Snapchat, and how we as marketers are guilty of talking too much and doing too little with different platforms.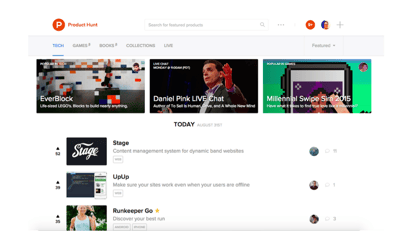 There's no magic bullet or secret formula. There's just getting your hands dirty with different sites, services and communities. That's how you determine which channels are valuable and get there before the competition.
To help you do that, here are five unconventional platforms you might want to dig into today.
1. Build word-of-mouth buzz with Tomoson.
Tomoson (@TomosonReviews) is a platform that connects brands with bloggers who might want to review their products. It makes it easy to connect your product with influencers who can create word-of-mouth buzz for your offerings.
Here's how it works: You sign up and send your product to one or more bloggers. Tomoson tells you who reviewed the products, and provides reports on the results by measuring the review's impact across major social networks.
Best for: Brands that want to generate word-of-mouth buzz in a niche market.
2. Gain 15 minutes of fame with Product Hunt.
Product Hunt (@ProductHunt) is a new community where tech and entrepreneurial influencers share and upvote their favorite products. It started as a weekend hack, and turned into a business with $6.1 million in funding. Now, it's the go-to platform to list cool, innovative and noteworthy products. Its audience includes mega-influencers in Silicon Valley, and the site is quickly gaining mass appeal.
Anyone can list on Product Hunt, but completing an application is no guarantee you'll be featured on the site. Still, getting your product listed is like being introduced to a list of VIPs who will promote your offering, so it's worth spending a few minutes on an application.
Best for: Startups, apps and web services with a jaw-dropping product or new release.
3. Tap into a massive audience with Medium.
We've written about blogging / content platform Medium (@medium) before, and it's only getting bigger. The site is a go-to destination for both short- and long-form content. Lots of people write on Medium, but quality, like cream, rises to the top no matter how big or small of an audience you start with. That presents opportunities for upstart brands with little reach to develop a following.
Best for: Thought leadership, especially for smaller companies.
4. Become a thought leader on Quora.
Question-and-answer site Quora (@quora) has been going strong for years, and its staying power is impressive. That's largely due to its passionate community of luminaries in the tech and startup worlds, who expound on everything from Elon Musk's latest venture to geek culture to how businesses work.
But don't be fooled by its jack-of-all-trades topics: This is an engaged community you'll want to explore if you're marketing to startups and tech companies or looking to partner with Silicon Valley influencers. Huge names stay engaged with the site, so building thought leadership for your executive team on Quora can be an activity that produces massive returns.
Best for: Startups and entrepreneurs looking to connect with like-minded companies and people.
5. Boost traffic with Amazon.
Yep, you read that right. Amazon (@Amazon) isn't just a store; it's also, according to this excellent read by Neil Patel, an extremely effective content marketing channel.
Patel suggests turning the content you're already creating for a blog or website into a Kindle ebook, setting the price to free and embedding CTAs in your ebook content. The result is exposure to an audience you might not reach otherwise, and a strategy that leverages the traffic of one of the world's largest retailers.
Best for: Built-out blogs that need a traffic bump.
What other platforms are you experimenting with? Let us know in the comments!
Now That You Know The Platform, Learn How To Improve Performance
Identifying the platforms that matter is critical to building a marketing program that performs. But it's not the whole story. You'll also need the right talent and technology to drive growth with marketing, and a strategy to pull it all together.
It's all in the Marketing Performance Pack, our free toolkit that's designed to help you improve your marketing. Get it today.