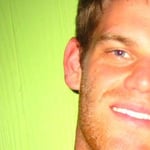 The following is a guest post by Jeremy Page. Page is an '80s music fanboy and serial digital entrepreneur. His latest project is Authority.org, a review platform for experts. You can connect with him on LinkedIn or his personal blog.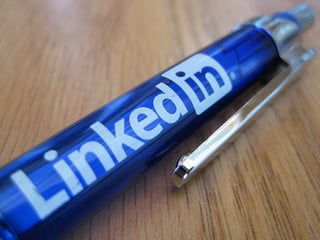 In the past few years, LinkedIn has established itself as the No.1 professional social network. It's the go-to for professionals from all industries to connect, build work relationships and brand themselves and their companies.
As a digital calling card, LinkedIn is a great platform for marketing professionals to showcase their credentials, their experience and their work interests. However, there are still many marketers who are neglecting some basic branding dos and don'ts on LinkedIn.
Let's go through 5 critical things that marketing professionals should leave off their LinkedIn profile:
1. Cliché Terms and Buzzwords
As a marketer, creativity is expected. A first glance over your Linkedin profile can tell a possible employer or collaborator if you possess it or not. Using phrases like "social media aficionado," "digital guru," "SEO ninja" (c'mon, man), "online communication virtuoso" or "digital wizard" is like shooting yourself in the leg.
Have some respect for yourself and for those reading your profile description to use natural-sounding phrases, designed to illustrate your work experience, not destroy it. A useful exercise you can try is to introduce yourself with your LinkedIn description the next time you meet someone face-to-face. If you can't bring yourself to pronounce it out loud, re-write it.
Here's a smart headline: "Social Selling Expert — helping sales teams grow their business."
Overused words can also shed a negative light on your profile. LinkedIn actually compiled the top ten global buzzwords used in 2014:
Motivated

Passionate

Creative

Driven

Extensive experience

Responsible

Strategic

Track record

Organizational

Expert
2. Too Many Adjectives
Related, using too many adjectives might leave your new connection confused, or worse, tired. Less is more— now that is a useful cliché. If you're really a multitalented individual, why not demonstrate it by listing your valuable experiences and how they helped shape your professional career?
Try to convey some context for everything you list in your profile. Don't settle for a long set of adjectives that mean nothing to your reader.
And since you're a marketing specialist, you can replace useless adjectives with keywords that ensure you'll be found via search. Include keywords in your summary, job descriptions or headings, but make sure you avoid keyword stuffing. Here's a don't example: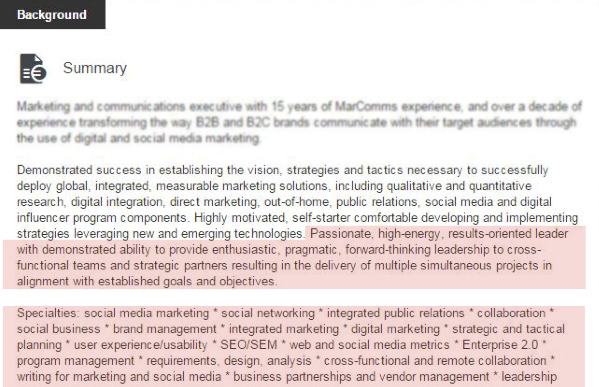 3. Exaggerations
I'm not talking about listing jobs and abilities you've never had. That's a definite "no" from the start. I'm talking about going overboard with phrases like "extremely captivating" or "incredibly passionate." You're not a movie trailer ... tone it down a bit.

Be proud of your accomplishments and ambitious for future collaborations. But, attempt to communicate it in an effective and professional manner. Combine your enthusiasm with your more serious side, while sounding natural.
On the same note, it's not always wise to list everything you've ever done. Take a look at these 20 things you should leave off your LinkedIn profile.
4. "Open to All Opportunities"
The more focused your abilities and objectives, the easier it is to connect with the right people and opportunities. Honestly, would you want a marketing job for an oil platform as much as you would an advertising job for a couture designer ... or a social media job for an environmental NGO?
We all have diverse interests, and it's great to develop yourself both horizontally and vertically, but you need to convey a unified message on your profile, including who you are, your work experience and your professional objectives for the future.

Be clear, be specific, and choose a direction. Perhaps you're interested in two industries, hoping to combine your professional career with volunteering work for NGOs, and that's great. But be careful not to mix them, as your objectives will seem less defined.
"If your LinkedIn becomes less specific, it looks too available and perhaps desperate," reminds Tanner Page, CMO at Workcrowd.
If you're interested, Harvard Business Review has a great article to help you re-design your LinkedIn profile to power a career transition.
5. A Less-Than-Professional Profile Photo
First impressions are crucial, both online and offline. Your profile picture is the first thing people see. In fact, the average recruiter spends all of six seconds looking at a resume, according to a study conducted by TheLadders.
No mirror selfies, color filters, cat photos or blurry shots. Use a clean photo of yourself; no group photos. Make it friendly yet businesslike, focusing on just your head and shoulders. LinkedIn recommends that your face take up at least 60% of the frame.
If you're not sure you can be objective, which science proves is a fact, ask for a colleague's opinion.
Or you can add bright color in the mix (ahem...like this guy) and stand out a little bit. Back when search results showed Google profile pictures, this same picture tested the best out of four other pictures (based on the click through rate). So, it's no surprise I use this picture on the outro of many of my blog posts, as well as my LinkedIn headshot.
Design Your Digital Environment
I suppose there's a bit more pressure for marketing professionals to have a pristine LinkedIn profile than it is for specialists in other industries. But, that's a good thing. You want people to see that you're skilled in designing the digital environment around you, and that you can sell your professional portfolio with ease.
We're all busy, but a small time investment in creating a great LinkedIn profile and the usual 15 minutes monthly upkeep can make a real difference in how you're perceived and approached on this particular network.
Image credit: Flickr Creative Commons, Sheila Scarborough