Ashley Sams
Director of Marketing
Ashley Sams is the director of marketing and communications at Ready North and Brightfind. She joined the agency in 2017 with a background in marketing, specifically for higher education and social media. Ashley is a 2015 graduate of the University of Mount Union where she earned a degree in marketing.

Whether it's learning a new language or understanding a new industry, Ashley has always had a passion for discovering and mastering new topics. This is why working within the ever-evolving landscape of marketing is the perfect career path for her.

At Ready North, Ashley thrives in team environments where her creativity and imagination can run free. "I'm passionate about understanding my clients' business needs and then building a strategy to help them succeed."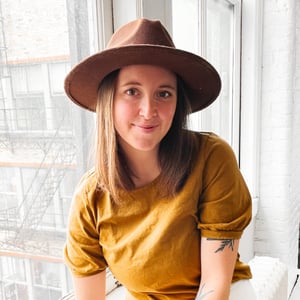 Interests and Passions
Ashley has a passion for exploring and spends much of her time outside work trail running, hiking, cross-country skiing, and camping in the wild Adirondack Park.
She loves the way exploring challenges her to adapt and embrace new perspectives.

Fun Facts
Fact

#1:

Ashley is addicted to ketchup and eats it on pretty much everything.



Fact #2: While spending a semester studying abroad in San Sebastián, Spain, Ashley learned to surf and now considers herself an amateur surfer.
Fact #3: She's constantly trying her hand at sustainable living and homesteading hobbies like macramé, making her own beeswax wraps, and composting.