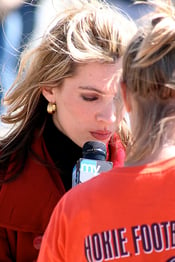 Relationships are at the core of any successful marketing campaign, and public relations (PR) is designed to help organizations communicate with those they care about most, including: analysts, customers, employees, influencers, media and partners.
PR is not about making your organization seem more remarkable than it truly is, counting clips and generating media impressions; rather it's about listening to your audiences, sharing your unique story, creating connections, gaining influence, and building loyalty in a measurable and meaningful way.
The last section of Marketing Score asks members to rank their organization's activation of a set of PR tactics, as well as their presence in both online and offline media. This post dives into the relevance of each tactic, and offers resources to power a fresh approach to PR.
Benchmark Your Online & Offline Presence
Offline Presence
When evaluating an organization's presence among more traditional media, consider coverage of your company in newspapers, trade media outlets, radio and TV. Even though a recent Pew Research report showed only 23% of Americans reading a print newspaper daily, mainstream media is still important to most brands.
Also, evaluate your monitoring capabilities and the key performance indicators (KPIs) you're using to assess the impact of PR efforts.
Online Presence
PR can be a powerful driver of inbound links and search engine optimization, as well as a primary strategy for brand storytelling.
How strong is your organization's presence on the Internet, including: mentions and features, by-lined articles, videos, podcasts, and images? Is your online presence in line with core brand messages?
Elements of a Powerful PR Program
Following are 11 tactics every organization should consider when planning a comprehensive PR strategy. Join Marketing Score to rate your brand's PR program.
Attend Industry Events & Trade Shows: What are your industry's top conferences and must-attend events, and does your organization have a presence? Industry events and trade shows are a great channel to connect with prospects, customers and partners. They're also an opportunity to position company leadership as industry experts with speaking opportunities and media interviews, and as a marketer, connect with media in person to nurture lasting relationships.

Engage with Writers, Editors, Bloggers and Analysts on Social Media: Is your organization (or better yet, the leadership, influencers and PR contacts within your organization) connecting with media in the social space? Social networks present ideal environments to establish and nurture relationships.

Maintain a Dynamic Database of Media Contacts and Bloggers: The media landscape is quickly evolving, and it honestly comes down to having the right connections.

How does your media database stand up to shifting roles at traditional and digital publications, emerging industry bloggers, and social influencers? When is the last time you updated your database?

Monitor Placements and Mentions of the Brand and Organization Leaders: Is your marketing and/or PR team the first to know about the placements of your brand, its leadership, and even the competition? Rank this factor based on mentions across traditional, digital and social channels.

Network Offline with Customers, Prospects and Peers: Never underestimate the value of offline interactions. We get so caught up in the simplicity and efficiency of communicating online, sometimes we forget how powerful in-person meetings can be. Take the time to invest in the people that matter most to your business.

Pitch Feature Story Ideas to Priority Media Contacts: An exclusive feature story can move your status from "incessant PR professional" to "resource" in the eyes of the media. Feature placements and pitches are critical for enduring relationships with the media. The following articles have some good tips for perfecting the feature story and pitch, including timeliness, relevance and complete abstracts, and access to experts.
Publish Press Releases: Press releases still have a place in modern marketing content. Filled with hard details around your organization's latest announcements (the who, what, where, when, why and how), and quotes from company leadership, releases are a valuable piece of company communications, and the traditional form of communicating with investors. View press releases as part of your overall content marketing strategy, rather than a tool for generating media coverage.
They're not the only SEC-approved format, however. In April the SEC said that, "corporations and their executives can use Facebook, Twitter or other social media platforms as a way of disseminating corporate information." Read more in the full article: SEC Clears Netflix's Reed Hastings; Says Social Media's OK for Sharing.
Pursue Editorial Opportunities in Traditional Media Outlets: Is your organization still looking to editorial opportunities from traditional media? In an integrated PR strategy, future editorial opportunities can spur blog topics and build resources from your organization's subject matter experts (SMEs)—making for the perfect, integrated PR pitch and placement.
Blog Team / PR Team Integration Tip: Share your editorial calendars (the blog calendar of content that's on tap to be created, and the traditional editorial calendar from top publications). With each post that's published, try to pass along a few potential upcoming editorial opportunities that align.
Secure Guest Article and Blog Opportunities: Guest article and blog post opportunities marry content, social and PR. As you build your own blog's community, look for commenting opportunities to share posts or recent news, as well as other industry blogs with opportunity to spread reach. Consider guest columns, and mutual guest posts.
Submit for Speaking Engagements and Industry Awards: Speaking engagements provide your organization with opportunities to showcase expertise, build reach, and bring value to diverse groups of audiences. While industry awards can offer validation and third-party endorsements to give your brand enhanced credibility.
Use Original Content, including Case Studies, White Papers and Ebooks: How does your organization everage content marketing to fuel PR efforts? Original content enables organizations to showcase brand personality, capitalize on top industry news and trends, position leadership as SMEs, and more.
For additional resources, see the Marketing Score PR Resource page, which is filled with leading PR blogs, books, organizations, events, influencers and more.
Photo Credit: Waldo Jaquith via Compfight cc